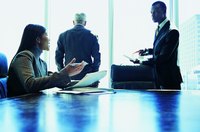 A boss can make or break a business operation and an overall work environment. Good bosses are effective at making sure the job gets done, as well as ensuring that the employees have what they need in order to do their jobs. Certain practices separate poor or average bosses from great ones. If you want to be a great supervisor, consider implementing certain strategies into your management activities.
Setting Priorities
A great boss knows how to set priorities for the work that needs to be done. Setting priorities first requires organization. A well-organized boss has schedules, information and supplies kept in such as manner that they can be easily accessed. Once you have your work organized, evaluate the importance of each task. Set up time lines for projects, so you can monitor progress. If you don't set priorities among multiple needs, your more important tasks may be neglected.
Expression of Care
A mark of a great boss is that he cares about his employees. If workers thank that you don't value them, they will not be motivated to do their best work. Expressing personal sensitivity toward employees can be as simple as accommodating schedule changes when family emergencies come up, lending a listening ear toward justifiable grievances and offering sporadic simple perks such as having an office lunch catered occasionally.
Communication
Great bosses communicate their vision, goals, plans and expectations well. Having a shared vision that unifies the workplace is extremely conducive to accomplishing tasks. Employees must be able to understand what you are looking for and how you expect them to accomplish objectives. Ambiguity has the potential to create many problems. Being forthright helps you to avoid having to backtrack and clarify when things go wrong.
Accountability
A great boss will maintain personal accountability with her employees. If you promise something, follow through. This will build your employees' trust, which is essential to healthy work relationships. Maintain personal integrity as well. If you expect your employees to use 30 minutes for lunch, hold yourself to the same standard. In meetings, occasionally address what you need to strengthen yourself in terms of work contributions. Accountability and integrity help your employees to think that you are working with them and not isolating yourself within some sort of privileged status.
Postivity
Even though it sounds simple, maintain a positive attitude. Not only will this help you personally, but it will help to keep your employees morale up as well. Compliment your workers more than you criticize. Be sure to applaud what is done well. Offer constructive feedback and avoid belittling your employees. This helps your workers to feel appreciated and motivated.
Personal Health
Take time to maintain your own physical, emotional, mental and spiritual health. If you are feeling your best, you are more likely to lead effectively. Try to get regular exercise. Eat a healthy diet and get adequate sleep. Maintain regular medical check-ups and interventions when necessary. Make time for play, and relaxation. For some people, promoting positive mental and spiritual health might include practices such as prayer and meditation. Your overall health has a huge impact on your attitude and your interactions with others. Your employees and your business will benefit if you are as healthy as possible.