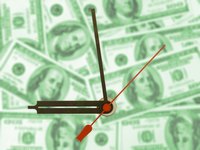 To keep track of their employees' time, employers generally implement a timekeeping system. More commonly--particularly if there are hourly workers-- employers use a time clock, which requires the employee to punch the clock using a time card. Time card punching is critical to payroll processing.
Requirement
According to the U.S. Department of Labor, the employer can use whichever timekeeping system he wants, provided it is accurate and complete. Therefore, the employer does not have to use a time clock. For instance, he can use time sheets, which employees are required to complete and have their supervisor endorse.
Considerations
A time clock system allows a certain degree of accuracy. When the employee clocks in and out, the clock prints the punches onto the time card. Consequently, when hand-written changes are made to the time card, it is difficult to disguise them. Still, employers have to guard against "buddy punching", in which employees punch in and out for each other.
Processing Impact
If the employee fails to punch the time card properly, it can lead to payroll delays and inaccurate time reporting. For instance, say he clocks in when he arrives to work and when he went to lunch, but fails to clock in upon returning from lunch and when he left for the day. The employee or his supervisor has to state what these punches are on the time card, which may or may not be correct. Once the time card reaches the payroll person, she might have to spend extra time calculating the time card. Reading hand-written time card entries and/or changes can be difficult, particularly if the writing is illegible. If the employee clocks in and out as required, it makes computing the time much easier.
Income Effect
Employees are paid based on what their time card reflects. Therefore, incorrect time cards can lead to incorrect paychecks. Employees, supervisors, and the payroll personnel should work together to ensure proper payroll processing. Employees should punch in and out as expected; and supervisors should ensure that employees understand the importance of proper punching and the consequences of not doing so. The supervisor must also ensure that the time card is properly completed and legible before forwarding it to the payroll person. To ensure accuracy, the payroll department must double-check the hours, even if the employee and the supervisor have already done so.
Record-Keeping
According to the U.S. Department of Labor, employers are required to keep records on which income computations are based, such as time cards, for at least two years. The employer must allow representatives of the Wage and Hour division to inspect these records when necessary.
Alternative
The employer can eliminate actual time card punching by using electronic swipe cards, which automatically records the employee's swipes into the timekeeping system. He can also use a computerized system, which requires the employee to punch in and out using codes; or he can use a hand-punch or fingerprint system.