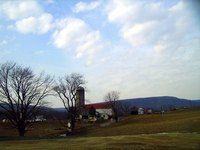 There are different approaches to defining rural property in the United States. There is some commonality between these definitions. Moreover, there are definitions of what constitutes rural property that are utilized for particular purposes but that do not translate to broader usage.
Function
Making the distinction between rural and urban property, and specifically defining rural property, serves a variety of functions. For example, if you claim a homestead exemption in a bankruptcy case or for some other purpose, the nature of that protection depends on whether your real estate is defined as urban or rural. The rural and urban distinction also plays a rule in the provision of certain types of governmental services and the way certain taxes are calculated.
Misconceptions
A common misconception associated with the definition of rural property is that extensive acreage in a sparsely populated part of an incorporated city is classified as rural. In fact, if the real estate is within the corporate limits of a city, that property is not classified legally as rural.
Census Bureau
The U.S. Census Bureau expands the basic definition of rural. The Census Bureau takes a reverse approach to defining rural. The agency defines urban to include not only incorporated cities but any area, incorporated or not, with 2,500 or more residents. The agency defines rural as "anything that is not urban." Approximately 25 percent of the country is rural, according to the U.S. Census Bureau.
Office of Management and Budget
The federal Office of Management and Budget categorizes real estate into metropolitan and non-metropolitan areas. The distinction does not match up perfectly with urban and rural. The metropolitan classification does equate to urban. However, non-metropolitan includes not only property traditionally deemed rural but includes communities with up to 50,000 residents (which is not typically considered rural).
Features
In addition to the technical or legal definitions of rural property, this type of real estate includes other features. For example, individual parcels of property tend to be significantly larger than parcels or lots in an urban setting. The typical plot of rural property extends over multiple acres, while the typical urban lot is well below one acre. Rural property generally is undeveloped and oftentimes used for agricultural purposes.