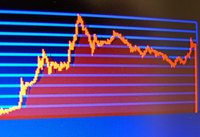 The stock market is a financial mechanism that primarily exists to fund corporations so they may expand and provide additional product or services. In so doing, the corporations become "public" and turn their overall control over to the public. Shareholders get voting rights and can make changes to a company's leadership. While this may seem like a specific group of people that are involved in the market, in actuality the entire stock market has a significant effect on a society. In some cases, a single stock market can affect the entire world.
Panic
Whether an individual is directly involved in the stock market or not, dramatic declines tend to affect the overall perception of a society on its continued prosperity. A most obvious example of this is the stock market crash of 1929. The panic that ensued after this dramatic drop in the stock market caused many people to lose confidence in the financial system. Everyday workers who had no actual investments affected by the crash became skeptical and lost confidence in the banking system's ability to safely store their money. This resulted in a massive "run on banks" to withdraw cash. Many banks did not have the cash to satisfy client accounts, and thus failed when they ran out. When the banks closed, people no longer had access to the money they had deposited.
Retirement
Retirement accounts are common. Many people with no personal involvement in the stock market still have IRAs and 401ks. These accounts are often managed by companies who invest the holdings in the stock market. If the stock market performs poorly, retirement accounts can be affected, leaving retirees with less money to live on. The stock market crash of 2008 forced many would-be retirees to continue working because their retirement accounts declined so significantly.
Undue Optimism
When stock markets considerably exceed expectations and perform with astonishing success, the primary players in the financial markets can become complacent and overconfident. The dramatic bear market of 2008 was immediately preceded by the highest levels ever achieved in the stock market. The years leading up to this crash saw unprecedented leverage applied by financial companies to profit from the bubble in many sectors, most notably in real estate. It was a time when seemingly no one foresaw the end; as a result, many companies piled all they had into highly speculative and poorly managed investments. This only made the subsequent crash more devastating.
The role of banks in providing mortgage loans to those who should not have qualified led to massive defaults and a considerable decline in home values. This affected all of society, including those who never obtained these loans or even had stock market investments.
Improved Services
The primary function of the stock market is to capitalize companies. The huge influx of money that results from a successful public offering can give a company resources it never had before. This can ultimately affect everyone. A good example of this phenomenon is Google. The company was a leading Internet search engine prior to going public. Since its capitalization, the company has become a global leader in many other Internet services, providing email, video streaming portals, online office productivity software and even mobile phones. These developments have served millions of people, but were only possible because of the capitalization Google received from the stock market.
The Economy
A rising stock market is both the result of an improving economy and also the cause of it. The financial system is a tightly integrated tapestry of separate industries that can ultimately be viewed through the eyes of the stock market. When companies perform well, their stock prices go up. Many successful companies can cause entire stock markets to rise. This builds wealth for investors, who then use their money for practical purposes, which helps the economy run smoothly. Retailers, restaurants and other businesses benefit from those who spend their stock market profits. These companies then perform better, further sending stock prices higher. The cycle repeats and helps maintain a prosperous society for everyone.