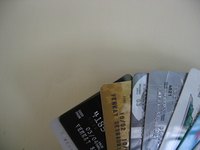 Credit card statements are typically sent monthly, but the interest on a balance actually accrues on a daily basis. Anyone interested in finding out how much he is being charged per day needs to figure out his DPR, or daily periodic rate.
Identification
Since months vary in length, most credit card issuers calculate interest by using the DPR. The DPR is calculated by dividing the annual percentage rate by 365, the number of days in a year.
Example
If you have a credit card that charges a 10-percent interest rate, divide 10 by 365 to get your DPR: 0.028 percent. This is the rate that is multiplied by your balance every day.
Considerations
The DPR is a reflection of the APR. If you have a variable-rate credit card, it means that your interest rate fluctuates. If your APR goes up, so does your DPR; if it goes down, so does the daily rate.
Significance
If you are trying to pay off what you owe on a credit card and your DPR has increased, you need to pay slightly more every month to pay down your debt at the same rate that you had been.
Expert Insight
Even if you have a non-variable APR, there is no guarantee that it won't change, which also would mean a change to your DPR. Credit card issuers typically have the right to change the APR if market conditions warrant it, although you must be notified first.