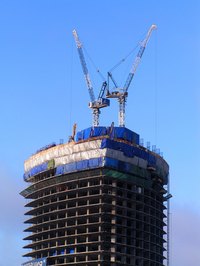 Surety bonds are a risk mitigation tool issued by insurance companies or specialty surety bonding companies. Surety bonds protect for performance against a contract or contract specifications. The surety company is a third party to a contract, providing payment should the party providing service fail to perform. Surety bonds are most common in the construction industry.
History
The oldest known surety document dates to 2750 BC. Corporate surety bonds emerged in the 19th century. In 1894, the U.S. Congress passed a law requiring all federally funded projects to be covered by surety bonds.
Function
Surety bonds provide protect against a contractor failing to meet the obligations of a contract. If the contractor was to fail or otherwise fail to complete a project, the surety bond provides compensation to the organization that hired the contractor. This reduces the risk for an organization undertaking a large project.
Types
The two most common types of surety bonds are bid bonds and performance bonds. A bid bond is submitted by a contractor with a bid, assuring that the contractor will undertake the project at the quoted price if they win the bid. A performance bond is issued after the bid is awarded. Performance bonds guarantee that the contractor will complete the project to specification. A third type, the payment bond, assures that the contractor will meet all of its payment obligations for the contract.
Benefits
Contractors must meet rigorous standards to be issued a surety bond; surety companies will not issue a bond if the contractor is not highly likely to complete the project. Organizations contracting for large projects assume a great deal of risk. Surety bonding helps to reduce that risk by assuring the contractor's performance to the contract specifications.
Misconceptions
Surety bonds are sometimes confused with fidelity bonds. While a surety bond assures a company's performance, a fidelity bond protects against dishonest acts by company employees.