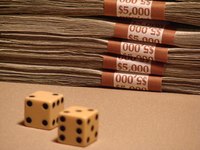 A debt crisis occurs whenever an economic entity cannot service or repay its debts. Often a debt crisis occurs in a developing or smaller developed country with a weak economic infrastructure: Greece, for example, had a widely publicized debt crisis in the spring of 2010. "The debt crisis," now usually refers to a specific instance of this that began as a financial meltdown in 2008 involving U.S. financial institutions, and which quickly became a crisis of debt. As some firms collapsed the U.S. government stepped in and shored up remaining firms with public money.
2008 U.S. Financial Meltdown
Most economists agree that the financial meltdown began with the collapse of the U.S. housing market, exacerbated by the use of complex financial instruments, such as "debt swaps," that amounted to highly leveraged bets that the housing market expansion would continue. As it collapsed, these bets became huge debt obligations that many financial firms neither refinance nor repay.
Two Analyses of Financial Meltdown
Liberal economists view the 2008 financial meltdown resulting from inadequate U.S. government regulation of financial institutions that made extravagant and risky bets with a wide and insufficiently understood variety of complex financial instruments, bets they eventually lost. Conservative economists view the 2008 financial meltdown resulting from excessive government mortgage underwriting that encouraged an inflationary U.S. housing market that collapsed under the weight of bad loans that never should have been made.
Meltdown and Crisis Unfolds
After the economic collapse of the fall of 2008, Treasury Secretary Henry Paulson began a series of moves--applauded by some and condemned by others--to slow down and then reverse the collapse. The incoming Treasury Secrretary, Timothy Geithner, continued and expanded Paulson's remedies. The government bailed out threatened financial and industrial institutions with loan guarantees and low interest loans. The new administration encouraged the passage of substantial stimulus bills designed to revive the economy
Two Ways of Interpreting Credit Freeze and Crisis of Debt
In 2010 Americans view the ensuing credit freeze and following severe recession in one of two ways. Conservatives see excessive government intervention in response and an ill-advised stimulus plan that has saddled us with debt, making another debt crisis more likely. Liberals see appropriate government intervention that staved off years of economic depression and a renewed emphasis on government regulation that will make future economic meltdowns less severe.
Spread of the Debt Crisis
As of spring 2010, the largest western economies, principally the U. S., Germany, Great Britain and France, have successfully negotiated their way through the 2008 economic collapse and the following crises over debt. Smaller economies still suffer the consequence of the 2008 collapse and many of them have current or pending crises of unsustainable debt, especially Greece, Spain and Portugal, and in lesser degree Ireland and Italy.