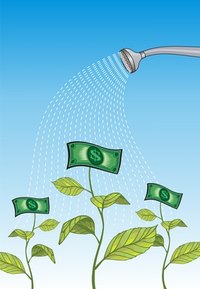 Angel investors and venture capitalists both provide funding for risky or unproven business ideas--ideas that might not be able to attract funding from a regular bank loan. Both angels and venture capitalists operate in the same financial sphere, and both usually take an ownership interest in the businesses they back. But there are differences between the two.
Who They Are
Angel investors are usually wealthy individuals (or occasionally groups of individuals) who invest their own independently earned funds.
Venture capital operations are corporate entities that use funds from other investors--sometimes large institutions--and manage that money by investing it in growth businesses.
Deal Size
Venture capitalist companies generally take on much larger projects than angel investors do. The average range of angel deals might be between $25,000 and $100,000 if the angel is acting as an individual.
Venture capitalist shops typically deal with transactions from $500,000 to $10 million or more. According to the National Venture Capital Association, the average deal size for venture capitalist investments in 2009 was just under $6 million.
Developmental Stage
Angel investors are usually interested in the really early formation stage of new companies that are just getting an idea off the ground. Venture capitalist funding typically comes in once the idea is a little more established, when the company is looking for cash to finance a fast growth stage.
Due Diligence
Venture capitalists have their own investors to satisfy, so usually the operation will require a very rigorous investigation of the fundamentals of any company applying for cash.
Most angel investors do not have the same sort of structures set up to put a company through its paces, so the hurdles to obtaining money from them might not be as high.
Oversight
Once the cash is handed over, it is standard for a venture capital house to place one of its professionals on the board of the borrowing company, and to assume fairly close oversight of that company's operations. An angel investor might require a board seat, but this is less common, and generally the oversight is less rigorous.