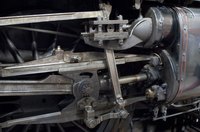 In-house fabrication is a term in the engineering industry for creating parts on your own premises, rather than relying on a supplier. A company's own staff can design and produce parts that fit their needs exactly, rather than needing to rely on using, or customizing, a supplier's existing products. This reduces outlay and delays, while improving flexibility and ownership of a project.
Function
In-house fabrication works by designing and building customized parts by a company's own staff, for use in the company's own products. Whereas in standard construction, generalized parts may have to be adapted to suit specific needs, the purpose of in-house production is to minimize this extra processing and thus reduce cost.
Significance
When designing a product, consideration has to be given to the size, shape and availability of the components that will be used in its construction. However, if some or all of the component parts can be built in-house, it will be possible to design these components to better fit the specifications of the final product. Sleeker, more refined products are then possible; such as the PlayStation 3 console or Apple iPad.
Potential
Because the entire design and production process is controlled by one company, the potential for ownership of the entire product increases. Proprietary formats, such as Sony's Betamax, are possible because of in-house fabrication.
As the Dyson series of vacuum cleaners has demonstrated, another potential benefit of in-house fabrication comes from being able to patent the new component designs; leading to increased license sales from competitors and therefore the ability to restrict competition.

Benefits
In-house fabrication has many benefits, including increased communication between the producers of the parts and the end users, who will be working toward the same goal. Parts that would otherwise need specialist training to design and produce can be built by or in collaboration with the expert that needs it. Costs are minimized because the company does not need to rely on middle-men, or expend time and effort re-tooling parts to fit their particular needs.
Misconceptions
Common misconceptions about in-house fabrication are that it increases production and design costs. However, because delivery time for parts is reduced, and existing design and production staff can be used on the component and end product, the cost difference is minimal. Furthermore, by cutting out suppliers it is possible to better forecast outlays for parts, and benefit from increased budgeting stability.