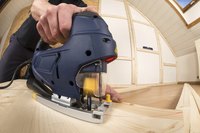 The U.S. Occupational Safety & Health Administration (OSHA) researches workplace hand injuries. The organization sets forth policies for employers to follow regarding the prevention of injury. OSHA has developed specific standards for hand safety in general industry environments, shipyard employment, marine terminals, long shoring and the construction industry. Following precautions, developing safe procedures and training employees on these topics is critical to preventing injury.
Causes of Injury
Power and hand tools are the most common cause of workplace hand injuries. Even a simple tool can be hazardous when used improperly or not maintained appropriately. Hands can also get pinched or crushed in between heavy machinery, equipment or materials. Contact hand injuries result when the hand comes in contact with harsh chemicals, including solvents, acids, cleaning solutions and flammable liquids. Repetitive motion injuries occur when a worker repeats tasks or makes rapid hand movements for long periods of time.
Significance
Hands are one of the most important parts of an employee's body affecting his ability to work. Hands can be exposed to many hazards that result in skin absorption of harmful substances, severe cuts or lacerations, severe abrasions, punctures, chemical burns and thermal burns. Any of these injuries can severely impair or prohibit an employee from performing his job responsibilities.
Safety Training
Training is important for any employer to promote a safe working environment, according to OSHA. In some industries and with certain tools, training may be mandatory. Training to minimize hand injuries should address the proper care, use, inspection and maintenance of each piece of equipment or tool an employee uses to carry out a task. The nonprofit Risk Management Center recommends numerous safe procedures for specific tools. For example, power tools should never be carried by the cord or be used in environments where they could get damp or wet.
Protective Equipment
Personal Protective Equipment (PPE) is a critical element to workplace hand safety. Gloves are the most common form of PPE. There are many types of gloves available that protect against different industry-specific hazards. Gloves fall into four groups--those made of leather, canvas or metal mesh; fabric and coated fabric gloves; chemical and liquid resistant gloves; and insulating rubber gloves. Other protective devices include shields, guards and safety locks that prevent mechanical equipment from accidentally powering on when not intended.
Considerations
State Compensation Insurance Fund reports that injuries often occur as a result of negligence and human error. In addition to training and PPE, employees must follow a few basic safety guidelines. They must learn to recognize hazards, think through each task, follow the rules, avoid shortcuts, report accidents promptly and seek treatment immediately.