Dogs and bones are a familiar pair. When the proper type of bone is provided, dogs are rewarded with hours of entertaining chewing and oral health, while their human owners are rewarded with intact furniture and slippers. However, problems can arise when dogs are given discarded bones from meals or imported rawhide bones. Choose safely made natural or synthetic chew bones for your dogs to keep them healthy and happy.
Benefits
Chew bones have both mental and physical health benefits for your dog. They save your furniture from falling victim to a teething puppy, and keep your older dog occupied while you are away, preventing boredom and the destructive behavior that often goes along with it. Additionally, bones act as a natural toothbrush, scraping away plaque from your dog's teeth and stimulating the gums to prevent gingivitis.
Warning
Chew bones can pose problems for dogs if the improper kind of bone is given. Discarded bones from your dinner plate can easily become lodged in your dog's throat, causing choking or esophagus damage. Rawhide bones, while created especially for dogs, may cause intestinal blockage in some canines. Rawhides that are imported from overseas are not regulated like those processed in the United States, and have been known to contain chemicals like formaldehyde.
Natural Chew Bones
Natural bones that are specially made to be safe for dogs include hard bones and bully sticks. Hard bones are sterilized, hollow cow or other animal bones. The hollow, tubular inside provides a place to spread peanut butter for a healthy treat that will keep your dog occupied, and the hardened outside will not splinter, so choking or other injuries should not be a concern. Bully sticks, another natural chew bone, are created from dried bull penises and ligaments. These tough chew sticks are long-lasting and easily digestible, so they are safe enough to give to young puppies.
Synthetic Chew Bones
Perhaps the most well-known synthetic chew bone is the Nylabone. These bones are made of hardened nylon, are easy to clean and will provide your dog with months of enjoyment before they need to be replaced. Nylabones have ribbed surfaces that further facilitate tooth and gum health. When the ends become ragged and thoroughly chewed, it is time to replace your dog's Nylabone. Planet Dog also creates a long-lasting synthetic chew bone made from 100 percent recycled and nontoxic material.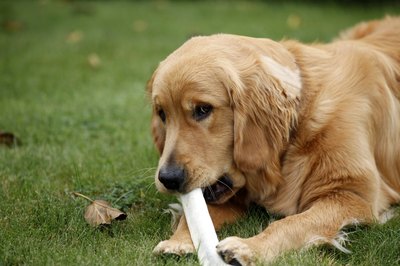 Considerations
When selecting the right chew bones for your dogs, keep in mind their size, breed, age and chewing behavior. A hollow, sterilized hard bone is too tough for a young puppy's milk teeth to chew, and a chihuahua will require a much thinner, smaller bone than a Labrador retreiver will. Both Nylabone and Planet Dog have synthetic bones specific to puppies and small and large breed dogs. Planet Dog even features a Chew-O-Meter rating for each of its products to assist you in selecting the right toy based on your dogs' chewing behaviors.