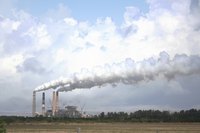 Despite regulations to control it, atmospheric or air pollution continues to plague most industrial countries. Because air is not static, pollution can travel many miles from its source, exacerbating an already difficult situation. This movement makes decisions and regulations more complex. As a society, the Unites States is dependent on cars and hence, the oil produced by oil refineries. This leads to a secondary effect of air pollution caused by oil factories from automobile emissions, especially in developed countries. Likewise, society depends upon the products produced by chemical factories.
History
Air pollution caused by oil and chemical factories first became an environmental issue during the Industrial Revolution, which began in the late 18th century. Coal fueled most factories, compounding the problems caused by the factories themselves. Problems caused by coal burning became evident, especially in urban areas. Buildings and streets became coated in the black ash. To remedy the issue, factories moved toward using cleaner, yet no less toxic sources of fuel such as oil. Although coal is still used in factories today, improved technology has reduced the environmental impacts.
Significance
Chemical factories emissions include toxins such as lead and mercury. According the EPA's 2008 Toxics Release Inventory (TRI), mercury emissions alone increased over 30 percent from 2007 to 2008. Overall, however, toxic emissions are down. Yet, pollutants like mercury have additional environmental risks. Mercury can accumulate in animal tissues, increasing the levels of toxicity. Further, mercury persists in the environment and does not break down.
Types
Several types of pollutants are released from oil and chemical factories. During the refining process, sulfur dioxide is produced. A consequence of sulfur dioxide emissions is acid rain. Acid rain forms when moisture in the air combines with this gas. The result is acidic precipitation which can acidify surface water and soils. The same can be said for any toxic factory emission. Often, the effects are not limited to air pollution.
Other Impacts
Emissions from oil factories include carbon dioxide, one of the so-called greenhouse gases. The theory surrounding the greenhouse effect states that a build-up of the ground level ozone will cause surface temperatures to rise. According to the National Research Council, surface temperatures have risen dramatically since the Industrial Revolution, supporting the theory. A rise in ocean levels also has been documented. The U.S. Environmental Protection Agency reports that sea levels have risen 5 to 6 inches along the U.S. coastlines, threatening coastal wetlands which provide flood protection from storm surges.
Progress
Atmospheric pollution can be reversed. EPA figures show a decrease in sulfur dioxide emissions, primarily due to the installation of scrubbers on power plants' smoke stacks. Since 1980, the national average of atmospheric sulfur dioxide dropped 71 percent. With proper regulations and monitoring, air pollution caused by oil and chemical factories may soon decline.