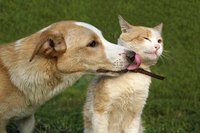 If you own dogs and cats and are considering using your canine flea treatments on your cats, be sure to check with your vet first. Many dog flea treatments are toxic to cats even in small doses. Cats can get sick, or even die, from dog flea treatments.
Cats Are Not Little Dogs
Cats and dogs are two distinct, separate species. Cats have different reactions to different medications than dogs. It's not just a matter of weight, although size sometimes figures into the equation. Cats have different nutritional needs and metabolize medications differently.
Pyrethins and Permethrin
When it comes to topical flea products, cats are particularly susceptible to a common compound called pyrethrins, and its synthetic version, permethrin. Pyrethrins and permethrin are insecticides that occur naturally in chrysanthemum flowers. These insecticides act as neurotoxins and disrupt nerve cells in insects. Most mammals are less susceptible to them; they're usually quite safe on dogs. Pyrethrins and permethrin get absorbed through the skin because they are fat-soluble. These toxins get broken down in the liver, and that's where the problem is for cats. A cat's liver cannot easily break down the permethrin. Because the liver cannot process it correctly, cats are more likely to be poisoned by flea medications that carry either pyrethrins or permethrin.
Other Hazards in Medications
Because cats and dogs are different, one should never assume that because one treatment is safe for dogs, it is also safe for cats because it contains no pyrethrins or permethrin. The flea treatment may have other ingredients that are safe for dogs but are toxic to cats, such as citrus extracts and organophosphates. Furthermore, even if you cut back the dosage on ingredients approved for use in cats but labeled for dogs, there's no guarantee you won't overdose your cat with the medication. Never use a flea preventive on a cat that is not labeled for a cat. When you do use the flea treatment for cats, be sure to follow the directions.
Be Careful with Treated Dogs
Occasionally, cats have been poisoned by coming into contact with dogs who recently have been treated with flea medications. If your cat plays with or grooms your dog, be certain that the medication used on your dog has dried and has been metabolized. When in doubt, contact your veterinarian for recommendations on flea treatment for your dogs that will pose little risk to your cats.
Pyrethrin and Permethrin Poisoning
Symptoms of pyrethrins and permethrin poisoning in cats includes tremors, drooling, vomiting, lethargy, seizures, weakness, agitation and difficulty breathing. If your cat shows any of these symptoms, bring him to an emergency veterinary clinic at once.