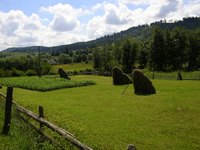 Appraisers determine land values for two main reasons. The first is to assess the monetary value of land in order to levy property taxes and the second is to substantiate value for resale purposes. While a land appraisal is an opinion, it is based on research the appraiser performs. All states require appraisers and assessors to complete training and certification testing, and become licensed prior to performing land appraisals.
Principles
Appraisers consider land to include not only the physical earth, but also everything in its boundaries. This includes everything underneath and on top, such as underground minerals, air, water, even the view a plot of land provides. The land assessment process places a value on the land based on stated economic principles of substitution, supply and demand, anticipation and conformity. Substitution principles determine land values based on the cost to purchase the same property elsewhere. Supply and demand determines land values based on the theory that values go up if demand goes up and supply remains the same. Anticipation principles value land based on future anticipated use and benefits, and conformity principles determine value based on similarity of appearance, use and owner demographics.
Factors
To apply land valuation principles, appraisers must consider several factors. Physical attributes of the land are an important factor and include location, soil and convenience. Within these, the appraiser looks at the distance to the nearest amenities, air quality, existing patterns of land use and proximity to transportation (such as roads, highways and public transportation). Legal factors include zoning requirements, building restrictions and current taxation. Intangible factors appraisers take into consideration include both social and economic factors such as family size and ages, population growth or decline, income levels and availability of land.
Methods
In general, land appraisers use three industry-based methods to apply appraisal procedures. The most relevant method for the situation is the main, or principle, method and the others function to support data findings. The cost method bases land value on the cost to replace the property, minus any accrued depreciation. Market sales comparisons use recent property sales and the income method--used mainly for income-producing land--bases current land value on net income-earning potential.
Procedures
The procedure appraisers use most often to appraise land value is sales comparisons. This procedure allows appraisers to base land value on actual data that includes recent sales of similar land. Although this is the most reliable procedure, others include allocation, abstraction, anticipated use, ground rent capitalization and land residuals. Allocation uses logic in that it establishes a relationship between the land and total property value, including improvements. The abstraction procedure uses sales data and depreciates the cost to replace land improvements, then subtracts this cost from purchase amounts to arrive at a current land value. Appraisers employ the anticipated use procedure when appraising land in transition, such as farmland. Ground rent capitalization is an income-based procedure that uses future income potential as the basis for appraising current value. Land residuals subtract improvements made to the property, and use the remaining net amount as the basis for current valuation.
Steps
To determine current land value, appraisers first identify the property using the legal property description, or parcel number. Next, the appraiser determines what data to use for determining land value. They analyze methods and procedures used in previous appraisals, and look at both physical and intangible land characteristics before making a determination on data and data sources. The physical appraisal is the next step. The appraiser collects, records and verifies land value data. Finally, the appraiser analyzes and interprets land data to arrive at a fair market value.