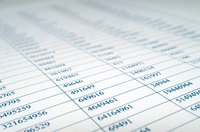 Treasury stock consists of shares reacquired by the company. These can be retired or reissued. However, they are not considered outstanding stock, and are not used for any accounting, reporting, or financial ratios. Treasury stock is usually created when the company repurchases shares in a buyback. Treasury stock cannot be voted.
Function
Corporations acquire treasury stock generally for two primary purposes. One is to fulfill stock grants and the redemption of stock options by employees and company officers. Another is to try to raise the share price when a company feels its stock is underpriced. That may be done when companies repurchase shares in lieu of issuing a cash dividend.
Identification
The number of shares of treasury stock is reported in the company's required regulatory filings. The amount to be retired is also reported. Retired shares cannot be reissued without a new stock offering.
Features
Shares held as treasury stock are not considered to be outstanding in the marketplace because all rights associated with such shares are suspended. Thus, treasury stock shares cannot be voted. Also, dividends are not paid on those shares.
Effects
Theoretically, treasury stock increases shareholder value by reducing the supply of stock and thus the number of shares on which dividends must be paid. Lower supply creates higher prices, assuming constant demand. Likewise, the fewer the outstanding shares in existence, the higher the per share dividend, assuming the overall dividend paid by the company remains constant.
Misconceptions
Given a fixed dollar amount for a company dividend payment, the dividend paid per share would rise if there were fewer shares. But most companies that pay dividends declare them quarterly on a per share basis. Thus, there is no guarantee that the dividend amount per share will actually increase.
For example, if XYZ Company paid 25 cents per share as the first-quarter dividend on 10 million shares, the payout is $2.5 million. If the company repurchased 1 million shares as treasury stock, then the dividend per share for the remaining 9 million shares would increase to 27.78 cents per share, with the total payout remaining at $2.5 million. However, the company could also declare it was keeping "the same" dividend of 25 cents per share instead, even though this would result in a lower overall dividend payout.