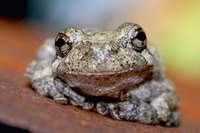 Frogs are amphibians and an important part of the ecosystem. Frogs–which as a group includes the shorter-limbed variety, "toads"–play vital ecological roles in all of Georgia's habitats, both as predators and prey. Frogs are also an important part of American culture: Who doesn't love Kermit the Frog and "The Princess and the Frog"? Yet, frogs are declining worldwide, so it is now more important than ever to learn about the native frogs of Georgia and other states.
Species Diversity
Of the 4,200 species of frogs in the world, 31 can be found in Georgia. Most of Georgia's frog species are located in the lower half of the state and species diversity varies considerably among Georgia's five physiographic provinces: Cumberland Plateau Province (16 species), Ridge and Valley Province (17 species), Blue Ridge Province (12 species), Piedmont Province (18 species) and Coastal Plain Province (28 species).
Life History
All native frogs in Georgia have biphasic life cycles that include aquatic larvae (tadpoles) that hatch from eggs deposited in water. Tadpoles live and grow in aquatic habitats for a period of time that varies by species, before eventually metamorphosing into terrestrial adult frogs.
Habitat Use
Georgia's frogs vary considerably in habitat use as adults. Most of Georgia's frogs are semi-aquatic, meaning that adults live their lives in wetlands, swamps, ponds, rivers or streams, and in the adjacent terrestrial habitat. Some species, such as the eastern spadefoot toads (Scaphiopus holbrookii), are fossorial and spend most of their time buried in sandy or loose soil, only emerging to breed (in temporary pools) during heavy rains. Other toad species are primarily terrestrial, such as the southern (Bufo terrestris) and oak toads (Bufo quercicus). Georgia also has a variety of treefrogs, such as green treefrogs (Hyla cinerea), barking treefrogs (Hyla gratiosa), and bird-voiced treefrogs (Hyla avivoca), which are arboreal but come down to wetlands to breed.
Conservation Status
Although Georgia's frogs face a number of environmental threats, none of Georgia's frogs are federally endangered and only three species are considered "species of special concern" by the state: mountain chorus frogs (Psudacris brachyphona), Brimley's chorus frogs (Pseudacris brimleyi) and carpenter frogs (Rana virgatipes). The gopher frog (Rana capito) is the only frog species officially labeled as "rare" in Georgia.
State Frog
In 2005, the Georgia state legislature designated the green treefrog (Hyla cinerea) as the official state amphibian. The green treefrog is common and widespread throughout Georgia, and is easily recognizable by its green color and well-defined white or yellow stripes along each side. Green treefrogs are fairly conspicuous, sometimes clinging to windows and sliding glass doors, and their deafening night-time choruses are heard long distances during the breeding season (spring and summer).