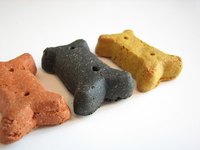 Dog owners want to make sure that their dogs get the best food possible. Artificial colorings are used in many dog foods, and understanding more about them can help you make decisions on your dog's nutrition and health.
Function
Artificial coloring is meant to make dog food look more appealing to the human purchasing the food. Gray, dull food looks unappetizing to humans, and the use of artificial coloring is used to make dog food appear more attractive. While natural substances like caramel coloring are harmless, they are unnecessary and generally only serve to make a food look more appealing and uniform to the human eye by hiding the gray color of poor quality rendered products, concealing visible variations in ingredients, or attempting to make a food look like it contains more meat by adding red dye.
Types
Several dyes are commonly used in dog food. Blue 1 is a synthetic that was originally derived from coal tar, while blue 2 is derived from heating indigo paste. Red 40 is similar to Blue 1 in that it was once derived from coal tar. Yellow 5 and yellow 6 are also commonly found in dog food. TiO2 is a non toxic white powder used as an opaque pigment and dough conditioner.
Considerations
According to the Examiner.com, dog food that has artificial colors in it will often also feature fillers and artificial preservatives. Fillers and artificial preservatives can be harmful to your pet over an extended period of time, and artificial food coloring in dog food may indicate other problematic ingredients as well.
Colors Perceived by Dogs
Dyes are an unnecessary ingredient in dog food, according to The Dog Food Project, since dogs do not care about the color of their food. While dogs are not truly colorblind, according to Dog Time, the spectrum of colors dogs see is limited, compared with that perceived by humans. Reds, greens, and oranges are not distinguishable to dogs.
Effects
While one of the most-tested and widely used food dyes, the key mouse tests on FD&C Red No. 40, were inconclusive.However, according to an FDA review committee, evidence of harm was not consistent or substantial.
The second most widely used coloring, FD&C Yellow No. 5, can cause mild allergic reactions.
FD&C Yellow No. 6, the third most widely used dye, causes tumors of the adrenal gland and kidney. In addition, small amounts of several carcinogens contaminate Yellow 6. Yellow 6 may also cause occasional allergic reactions.
The largest study suggested, but did not prove, that FD&C Blue No. 2 caused brain tumors in male mice. The FDA concluded that there is "reasonable certainty of no harm."