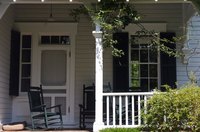 Homestead states in the United States, such as Florida and Texas, allow homeowners a standard deduction off their home value when calculating county property taxes. Not all states offer this type of deduction, so check with the state where you live to see if this is an option for homeowners .
Definition
A homestead deduction is the amount of money that the assessed value of your primary residence is reduced by to calculate your property taxes. For example, if the homestead deduction is $25,000, the assessed value of a home is $100,000, and it is a primary residence eligible for the homestead deduction, then $75,000 is the value the county uses to calculate how much property tax the homeowner owes. You may also hear a homestead deduction referred to as a homestead exemption.
Significance
A homestead exemption offers relief to homeowners because it helps them to save money on their property taxes. This makes homeownership more affordable, helping to break down some of the cost barriers that prohibit some people from becoming homeowners .
Types
The homestead deduction applies to single-family homes, condominiums, townhouses, manufactured homes and similar property types. The property must be a residential property--a homestead deduction cannot be applied to a commercial property. The property also has to be a primary residence, so the deduction does not apply to vacation homes or investment properties.
Conditions
Most states require you to complete an application to receive the homestead deduction. It requests your personal information and information about the property. As part of the application process, you're also required to sign an affidavit confirming that the home is your homestead or primary residence. You may also be required to provide proof that you live in the home, such as a driver's license with the home address or a utility bill with your name and address.
Time Frame
Homestead deductions are good for one year at a time, so the homestead deduction may have to be renewed from year to year. Most homestead states do not require you to resubmit a homestead application unless the ownership of the home has changed. Rather, the tax collector's office for the county where the property is located sends out a renewal notice that requires you to report a change in homestead. If there is not a change in the ownership or homestead status of the property then no action is required.