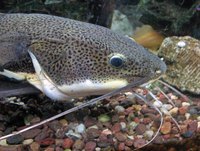 In Africa, catfish farming shows financial promise. In a 2009 Reviews in Aquaculture article titled "Use and Exchange of Aquatic Genetic Resources for Food and Aquaculture: Clarias Catfish," authors Uthairat Na-Nakorn and Randall E. Brummett list Cameroon, Kenya, Mali, Nigeria, South Africa, Togo and Uganda among the nations of the world that produce at least 100 metric tons of cultured clariid catfish annually. The Catfish Farmers Association of Nigeria reports that in 2009, its country produced more than 160,000 metric tons of harvested catfish, for a return of 24 billion nairas ($159 million) on an investment of 10 billion nairas ($66 million). In addition to serving domestic markets, catfish farmers in Africa pursue opportunities to export overseas, especially in Europe.
African Catfish Basics
Although Africa is home to numerous catfish species, most of these do not lend themselves to fish farming because they are either too small, unable to thrive in artificial environments or not in demand. However, the African sharptooth catfish, or Clarias gariepinus, does possess the appropriate attributes.
Monoculture Operations
African sharptooth catfish farms are typically monoculture operations—that is, ponds that do not mix fish species. For optimal results, monoculture facilities must use specially formulated feed that is 35 to 42 percent crude protein. The feed should consist of animal byproducts; vegetables; vitamins A, B-12, D, E and K; riboflavin and thiamine; folic, nicotinic and panthothenic acid; and assorted minerals.
Polyculture Operations
Polyculture operations raise African sharptooth catfish alongside tilapia. According to the Fisheries and Aquaculture Department of the U.N. Food and Agriculture Organization (FAO), polyculture farming is more efficient than the monoculture method, yielding Africa's catfish farmers a higher return on investment.
Pond Density
In an effort to maximize profits, farmers of African sharptooth catfish tend to stock their ponds as densely as possible. However, doing so may ultimately prove counterproductive. Although the species is especially adaptable to adverse conditions, overcrowding contaminates the ponds and makes feeding more difficult, resulting in smaller, less healthy catfish. Therefore, the FAO's Fisheries and Aquaculture Department recommends restricting pond density to 10 fingerlings per square meter and thinning out the fish population at regular intervals.
Diseases
In general, diseases do not pose a substantial threat to the farming of African sharptooth catfish. However, some diseases do occur from time to time. For example, the fish may fall prey to "crack head," a potentially fatal condition that is associated with vitamin C deficiency and overfeeding, though its precise cause remains a mystery. Another malady that can kill large numbers of the species is myxobacterial infection, which stems from substandard water quality and injury to the fish during handling. A third disease is aeromonas bacterial infection, which can cause edema, or swelling, in larvae.