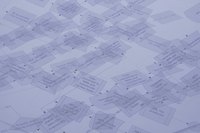 Rather than tweaking the edges of your business to eke out year-over-year growth, redesign the way you operate. Gain a commanding view of the operating environment with a process map. A value stream map in particular emphasizes where you can change the operating environment for the greatest benefit by pointing out both where your operations add the most value to the product and where operations hold up the process or cause bottlenecks that sap resources and drain profit from the bottom line. There are fundamental maps and processes you can plot to accomplish this redesign.
Current State Value Stream Map
Create a benchmark of your existing practices with a current state value stream map. Take a blank page, a pencil with a large eraser, and a critical eye, and plot a detailed flow chart of the operation as it currently exists with no assumptions about how it does or should work. Two ways to accomplish this: assemble a small team from various departments that know little about the process being mapped, and start at the end and follow the flow upstream. This forces you to ask questions and discover aspects that may be missed by being too familiar with the method. As you chart the flow, record on the map whether each task (step) in the process changes the product in a way that brings it closer to customer-ready.
Visual Space Analysis
One sub-set of value stream mapping is to analyze the actual operating environment. Determine whether the physical space helps or hinders efforts to add value. Some categories to include in the map's legend: raw materials, work in process, finished goods, tooling, aisles or pathways, offices and even empty space. If you have a current state value stream map, you can overlay activity you identified as value added to get a clearer understanding of more or less productive areas of the work terrain. You can also calculate the percentage of space allocated to each category to ascertain how much space is really devoted to adding value to the production process.
Material Flow Analysis
To complement a visual space map, trace out a material flow analysis chart. Literally take another blank page and follow the process from raw material to finished goods. Depending on how convoluted your trail is, you'll quickly realize why it's more commonly referred to as a "spaghetti diagram." While a visual space map points up wasted space, a material flow map spotlights wasted movement.
Future State Value Stream Map
Now that you know where you are, draw a future state value stream map to show where you want to be. Assemble your team again, this time including those involved in the process, to question the current state and challenge assumptions. You want to reduce work flow, eliminate bottlenecks and add value in each step that's left in order to produce the ideal terrain to operate in.
Kaizen Newspaper
Now that you have a series of maps charting where you are and where you want to be, plan how to get there. One tool to use is a kaizen newspaper,which is a table or spreadsheet that includes on each line: a problem statement, an objective or goal, an owner in charge of the objective, a due date to attain the goal and at which "PDCA" (Plan, Do, Check, Act or Adjust) phase of the plan the team is located as it works toward the goal. For each item in the spreadsheet, think "SMART" (Specific, Measurable, Attainable, Realistic, Time bound).