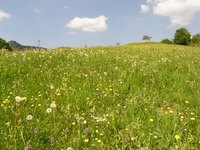 Native grasslands—areas naturally inhabited by native grasses instead of shrubbery or forests—include the prairies of the central United States and Canada, the steppes of Russia and grasslands that extend from Turkey to India. South America also has grassland regions, as does Africa, where they most often are classified as savannas. In North America, prairie habitats are fragmented and overgrown with opportunistic pests due to decades of agriculture and development practices.
Need for Grasslands
Grasslands are the natural habitat of--and provide shelter, food and breeding grounds for--many species of wildlife and insects. Indigenous vegetation including shrubs and forbs—flowering herbaceous plants—as well as grasses help trap precipitation, regulating ground seepage, percolation and water supply filtration and replenishment. Further, grasslands reduce soil erosion caused by weather forces.
Agriculture
Industrial agriculture in former grasslands often uses single-crop (monoculture) cultivation methods. From an economic viewpoint, monoculture methods use fewer chemicals, less machinery, simpler harvesting techniques and uncomplicated storage requirements. From an ecologic viewpoint, monoculture methods cause erosion and soil depletion and an influx of non-native pests and plants, which lead to a decrease in natural bio-diversity, and reduction of native grasslands regions.
Crop rotation—planting one crop followed by a different crop during different growing seasons—combats pest buildup and decreases nutrient exhaustion. Healthy crop combinations reintroduce or increase soil nitrogen, diminishing the need for some fertilizers.
Climate Considerations
Many grassland habitats have minimal plant growth and give way to deserts conditions in dryer regions from atmospheric changes, overgrazing and overuse similar to the conditions during the Great Dust Bowl era of the 1920s and 1930s. Increases in carbon dioxide (CO2) levels and higher temperatures may increase plant production but further deplete the soil.
Restoration Efforts
Removal of non-native and invasive species and cultivation and restoration of natural grassland species is the first step in grassland reestablishment. Grassland maintenance also requires prescribed burns—controlled burns designed to remove invasive shrubs and trees that might cause the prairie to give way to forest. Burning and planting native species improves the chances that indigenous grasses, herbs and other natural species will dominate, creating a complete ecosystem. An intact native ecosystem resists invasion by non-native species.
Grassland Easement
The United States Fish and Wildlife Service may enter into a legal agreement with a landowner that promotes grassland conservation through non-cultivation subsidies called grassland easements. Grasslands covered by the easement agreement may not be cultivated, and mowing, haying and seed harvesting is delayed until after mid-July. Easement restrictions promote grassland nesting for ducks, pheasants and other nesting species. Grassland easements do not restrict grazing.