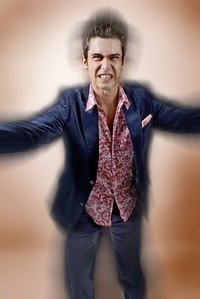 Passive-aggressive is a negative type of behavior marked by contradictory signals. Negative feelings such as anger, annoyance, impatience or resentment are expressed in such a way that is indirect, thus avoiding an open and obvious expression of such feelings. The indirect behavior is usually aimed toward the subject of the negative feelings or the individual deemed to have caused them, though this is not always the case.
Agreement
Passive-aggressive people often mask their pent up aggression through agreement, even an enthusiastic variation of agreement. Whether this agreement comes in the form of a vigorous nod of the head followed by caustic grumbling, or altogether compliance coupled with sullen behavior, the passive-aggressive individual will only hint at his unwillingness to agree, while displaying contradictory behavior all the while.
Procrastination
Procrastination is another sign of passive-aggressiveness. Often, individuals who don't want to do something may procrastinate in a showing of resistance. They'll offer excuses and apologies as they defer an action or task until a later date with the key feature being that the delay is offered needlessly. An important distinction to note is that not all procrastinators are passive aggressive. Instead, some passive aggressive individuals simply use procrastination as a negative means of expressing their discontent.
Cynical Attitude
Cynicism is the mainstay of passive aggressive behavior. Dictionary.com defines it as simply "an attitude of scornful or jaded negativity, especially a general distrust of the integrity or professed motives of others." Cynicism is often expressed through sarcasm and other derisive behavior, though sarcasm tends to be more specific and cynicism general in nature. For example, an individual may have a cynical view of another individual's ability to be honest. She may express this cynicism through sarcastic, caustic or biting remarks, remarks meant to wound when spoken. In this way, cynicism and sarcasm are two of the most obvious signs of passive aggressive behavior.
Irritability
Irritability is another sign of passive aggressive behavior. Individuals who seem irritable are often described as having a "short fuse" and are, according to Dictionary.com, "readily excited to impatience or anger." Though irritability may be a sign of depression, anxiety or high levels of stress, it can also be a form of passive aggressive behavior, as irritated individuals lash out without expressing what is truly bothering them.
As a Personality Disorder
Passive Aggressive Personality Disorder is a long-term condition whereby an individual actively engages in passive aggressive behavior as a means of expression. While this disorder is no longer recognized by psychiatrists, professional attention is nonetheless available for individuals who struggle with this behavior. Common symptoms of Passive Aggressive Personality Disorder include procrastination, purposeful inefficiency, complaining, feeling resentment and having unexpressed feelings of hostility or anger.