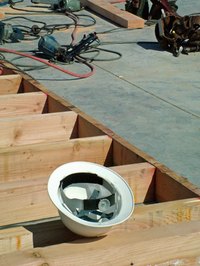 The purpose of a safety awards program is to encourage employees to work safely through an incentive award program that rewards employees for safe workplace performance. The goal of the management should be to change the "safety culture" of the organization by providing proactive management and the right training and awards to employees. The danger lies in creating a organizational culture that under reports safety infractions to maintain a high reward score.
Culture
The act of protecting an organization against preventable injuries, decreasing the number of lost work days while maintaining or increasing productivity is the goal every safety professional. It is possible to create a safety conscious culture within an organization by implementing a safety awareness incentive program that encourages safe work practices and involves all employees.
Proactive Management
The primary purpose of a safety awards program is to proactively manage the safety culture within the organization through awareness and incentive programs. This form of behavior-based program challenges management to make every employee aware of the safety program in all of its intricacies and ensure the employee understands what is expected of them by offering incentives for following the program.
Types of Incentives and Awards
Awards can be gift certificates for local retailers, or a company certificate with a retail gift card. Incentives can also be as simple as a office pizza party for completing the quarter accident free. Milestone awards can be given for incremental years such as 5, 10 and 20 years. Belt buckles, pins, pen and pencil sets are often given for milestone awards. Instant awards are given "on-the-spot" for a job well done. Company coins or a cash bonus are often used as an instant reward.
Outstanding Safety Achievement
This type of program rewards individuals or groups of people on outstanding safety acts that go above their normal duties. This type of award isn't a milestone award or an award for not having an accident. It is awarded, as needed, when an individual or individuals recognize a hazard within the workplace and take proactive steps to mitigate that hazard. This program's intention is to further encourage participation in the safety program by all employees, regardless of their position in the organization.
Warning
The primary concern of a safety award program is that it is a form of bribery states Dr. Ron Prichard, of Aon Worldwide Resources, that the program is an attempt at manipulating human behavior by encouraging the under reporting of accidents and incidences by employees rather than changing the behavior of the employee in the field. (REFERENCE 3) It is important to incorporate instant field awards, outstanding safety achievement awards, as well as having field safety representatives spot-checking day-to-day activity to ensure employee behavior in the field is commensurate with the goals of the organization and desired culture.