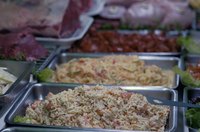 A catering business opens the door to a fast-paced career that combines good food with entertainment, customer service and fun. This is a potentially lucrative opportunity that can be conveniently established as a home-based business in a field that is growing steadily as our lifestyles have contributed to an increased demand for catered food service. If you love to cook, have a passion to serve and an entrepreneurial spirit, then a catering business may be the perfect option.
Job Duties
Essentially a caterer prepares, cooks and serves food for various events, occasions and functions. From an up-scale lavish event to the more casual and less formal affairs, the food service is a critical component to having a successful event making the caterer's role very significant.
Qualifications
Obviously, one must have some knowledge of food in terms of preparation and presentation. You do not need special education or training to become a successful caterer, although taking some culinary as well as business courses can be beneficial. Working as an intern or employee for another catering business is a good way to get first-hand exposure to this industry.
Start-up costs
Start-up costs may vary depending upon the size of the event and the amount of disposable income that is available. Certain expenses can be minimized by using your own equipment or renting certain items such as linens, cookware, utensils, tables, chairs, etc. Although it is highly likely that your business will require some additional staff, hiring part-time or temporary employees will also cut down on expenses.
Benefits
Work as little or as much as you desire. This type of business can be run part-time as a supplement or a full-time career generating unlimited income. If you enjoy interacting with people, this business will allow you to meet people on a regular basis and build professional relationships with many. The rush of it all can be challenging yet fun for the right individual. There may even be opportunities to work with high-profile professionals and rub elbows with celebrities and entertainers all while doing something you love.
Challenges
Catering is demanding work that requires stamina, energy and the ability to work under pressure. As a catering business, your reputation will speak volumes and your success will greatly depend upon the integrity, reliability and professionalism that you establish. Meeting tight deadlines and handling dissatisfied customers all come with the territory. The ability to problem-solve and effectively deal with people are two major skills that will be required in this business.
Who uses catering services?
Your potential clients may come from all walks of life, requiring your services for a variety of events including weddings, anniversaries, corporate events, dinner cocktails and birthday celebrations just to name a few. As a caterer, you may be serving in a variety capacities from elegant events with several hundreds of guests to smaller intimate and more casual social functions with just a few close friends.