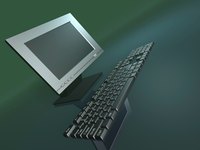 Strategic processes, ideas, goals and objectives for businesses and organizations are documented annually in a comprehensive strategic plan. The strategic plan is a document that provides vision to managers of employees concerning tasks and management actions to occur for the organization's success. One of the sub-strategies is addressing the use or implementation of business information systems.
Hardware Configuration and Architecture
Management decides hardware configuration strategies for their company. Hardware workflow analysis, which is in the overall corporate strategic plan, determines the type of system (mainframe, miniframe or PC-based networks) for implementation in a business or organization. A Chief Information Officer or hired consultant reviews the business plan of the company and designs the applicable hardware system. A business can use system architecture models to define terminal interfaces and placement of hubs, routers and data switches. These networks can be remote, geographical or interoffice networks designed to share data, access resources and data from other branches or offices belonging to the company.
Software Applications
A business information system must have a robust software application to integrate into various operating system platforms. These platforms can be Windows, UNIX or OS2 operating systems. The platform will depend on the corporations' strategic plan, which can include various software modules interacting with each other to provide real-time data and information. Software application strategies can be custom-made by developers, programmers or turnkey solutions with few customizable features.
Marketing
A business information system must consider ways to use technology to implement marketing strategies. Developing a marketing process to respond to customers' needs through information systems can increase business and solidify a corporate presence. An example of a marketing system integrated into a business information system is a call center that operates through a mainframe computer to call prospective clients to sell a product or service.
Operations Management
Business information systems planning during design phase must consider the role of computers in operations management. In relation to information systems, operations management is the process of ensuring divisions, branches and departments of a company have access to the software applications they need. The computer operations branch or division is strategically located in operations management.
Customer Support Strategies
The goal of any company is profitability through customer service. A business information system strategic plan must include statements on using the system for customer relations. An example of a business strategy concerning customers is a rapid response system integrated into the system process for customers to check balances on their bank accounts, make withdrawals from their account and provide technical support on common issues or problems.