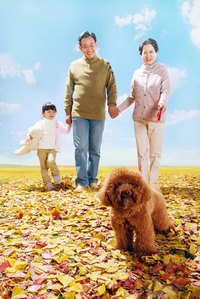 With a tiny fluffy face and large button eyes, shichon dogs can't help but be cute and appealing and ready for cuddles. These "designer" dogs aren't one particular breed, but instead are a hybrid parented by two distinct small dog breeds combined. Shichon pups are not recognized by the American Kennel Club, but are acknowledged by their cross names in the American Canine Hybrid Club.
So What's a Shichon?
Shichons are a Shih Tzu and bichon frise cross. Because these pups are crosses, traits from each parent breed may manifest in the hybrid pups. Generally speaking, all shichons remain small, weighing only 9 to 15 pounds. They're designed to be family oriented and playful, however this attachment may often manifest in separation anxiety and neediness.
Before you choose a shichon, it's best to familiarize yourself with the traits of bichons and Shih Tzus to ensure that they that suit your lifestyle.
Shih Tzu
The Shih Tzu, which means "little lion," is an outgoing and affectionate breed. Originating in China, the Shih Tzu has been a companion dog since A.D. 624. Sporting a longer coat than the other teddy bear parents, the Shih Tzu requires daily brushing.
These dogs are somewhat active, preferring walks and indoor playtime to rigorous activity. The Shih Tzu is generally a long-lived breed, imparting healthy genes to potential shichon pups.
Bichon Frise
Merry and inquisitive, the bichon breed is friendly and peaceful, and suited well to live with other animals. Early socialization plays a significant role in this, as it is not uncommon for some bichon lines to manifest natural timidity or fear.
Bichons do have the reputation of being difficult to housebreak, and they can be more vocal than some small dogs. If trained and socialized, however, these dogs lend a playful and puppylike temperament to their shichon offspring.
Shichon Grooming Needs
Shichons sport a soft curly double coat 4 to 6 inches in length, and a fine, silky undercoat. Nearly all shichons will end up with a fully white coat as they age, but their puppy coats may have some Shih Tzu coloring, which ranges from solid black, red, gold, blue or liver to those colors in combinations. Their tails are short, undocked and curl up and over their backs, and their hanging ears are feathered, giving them a "teddy bear" appearance. Your shichon will require consistent grooming, otherwise their fur will become matted and tangled.
General Health and Life Expectancy
Shichon are not typically highly active or hyper, and are content with daily walks and some playtime. Both breeds that are crossed to create the Shichon are relatively healthy and -- apart from a tendency toward dry skin and allergies -- have few breed related problems. With consistent vet checkups and proper care, your shichon can be expected to live to around 15 years of age.