Diamonds are, without doubt, the most popular gemstone used in 21st century engagement rings. However, many brides-to-be throughout time and today have worn other gemstones in their rings. Sometimes the decision is based on personal preference. Sometimes it is based on symbolism. Other times it is based on cost. In every case, though, the most important thing about an engagement ring is that it symbolizes the love between a woman and her chosen partner.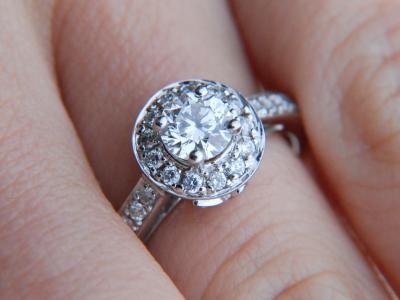 (Christopher Poe/iStock/Getty Images)
Rings have been used for centuries in marriage and betrothal ceremonies. The ring is said to symbolize the connection between a woman and the man who would become her husband. Popular myth has it that Ancient Greeks placed an engagement or marriage ring on the fourth finger of the left hand because this finger contains the vena amoris, or vein of love, which connects directly to the heart. In 860 C.E., Pope Nicolas I made the engagement ring an official part of the betrothal ceremony, requiring the groom to supply a gold ring to symbolize his wealth.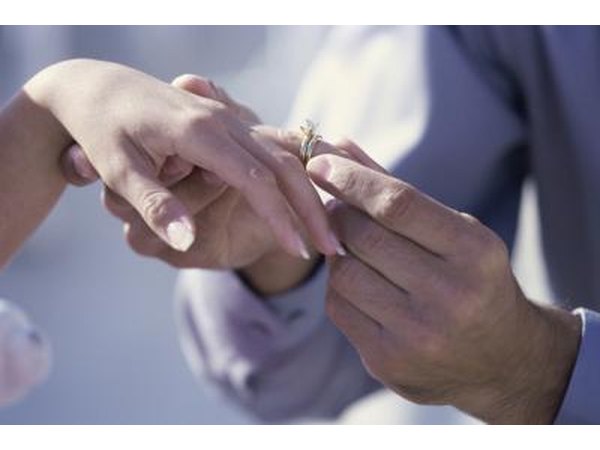 Purestock/Purestock/Getty Images
For centuries, diamonds were used primarily for tools and mythical purposes, not appearing in European ornamentation until the 13th or 14th centuries. Saint Louis (Louis IX of France) declared that diamonds could only be owned by the King. The first recorded diamond engagement ring was given by Maximilian I of Austria to Mary of Burgandy in 1477. In 1867, diamonds were discovered in what is now South Africa. With that discovery, diamonds came down in a value and were more accessible to the middle classes.
Jeffrey Hamilton/Digital Vision/Getty Images
Sapphires have long been used in engagement rings because the sapphire symbolizes romantic love, truth and commitment. During the 12th century, the crusaders would present their wives with sapphire rings to test their fidelity because the sapphire's color was believed to fade when worn by an impure or unfaithful woman. Many members of the modern British royal family have received sapphire engagement rings, including the Queen Mother, Princess Anne and Lady Diana Spencer.
tkportfolio/iStock/Getty Images
Emeralds are one of the rarest gemstones, harder and rarer than diamonds. Folklore has imbued emeralds with extreme healing powers that could cure leprosy, dysentery and everything in between. As an engagement ring, emeralds have grown in popularity.
Kasia Biel/iStock/Getty Images
Rubies have long been called the "king of gems." British Royalty often use rubies in coronation rings, and Sarah Ferguson, Duchess of York was given a ruby engagement ring by Prince Andrew. Rubies symbolize romance and are the traditional gifts for a couple's 40th anniversary.
kyoshino/iStock/Getty Images
In different cultures and time periods, nearly all precious stones have been set into engagement rings. Other popular stones include pearls, opals, aquamarine and turquoise.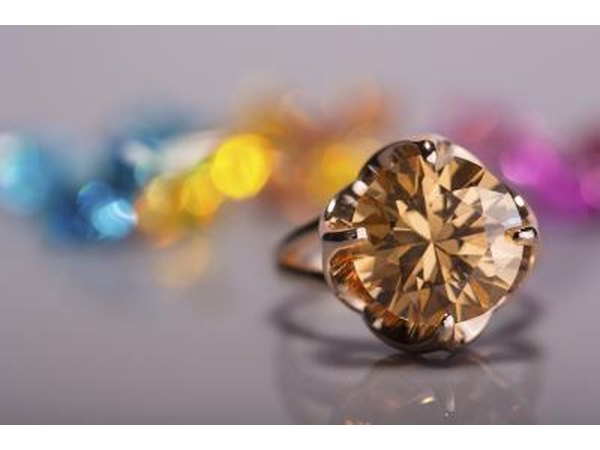 Yushanrenjia/iStock/Getty Images
Promoted By Zergnet