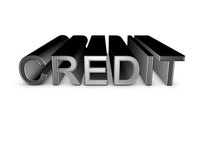 Your credit line refers to the amount of credit available to you on a given loan. When a credit line is "pulled," it means that line of credit is reduced. This can have serious financial implications for you. There are a number of reasons a bank might pull credit lines.
Definitions
A credit line is defined as the amount of credit that a lender has extended to you. You are permitted to borrow up to and including that amount of money. For example, if you have a $1,000 line of credit, you can borrow up to $1,000 at any given point. When a lender is pulling a credit line, the lender might either limit it or close it entirely. For example, it can pull your credit line by reducing it to $500 instead of $1,000. It can also close the account--pulling the card entirely and resulting in you no longer having that line of credit.
Types
Credit lines exist in any type of revolving credit. Credit cards are revolving credit that have credit lines. You are extended your line of credit, and the line revolves--you can charge as much or as little as you want and pay down as much or as little as you want, continuing the cycle.
Home-equity lines of credit are also revolving credit lines. These types of loans are distinct from mortgage loans, in which you borrow the amount of money needed to buy your home and that amount does not revolve or change on a monthly basis. On a mortgage, the initial amount borrowed stays the same, and you pay the mortgage down each month without borrowing more under that line of credit.
Uses
People use revolving credit lines for any number of things. Some use a home-equity line of credit or a credit card to take vacations, pay bills or buy daily necessities. Others use the money from a revolving line of credit to pay medical bills. You can essentially do anything you want with the revolving line of credit, up to your limit, unless or until the credit line is pulled.
Why Credit Lines are Pulled
Credit lines can be pulled for a number of reasons. Your lending agreement will typically dictate what will trigger the bank or lender to pull your credit line, although the agreement can provide the lender with significant discretion in deciding when to pull a credit line.
Your credit line may be pulled if your credit score or income changes. It may be pulled if you are late on a payment or if you charge over the limit on an account. It may be pulled if the lending institution changes hands and the new institution is not required to extend you a line of credit under the terms of your original loan.
Significance
When a lender pulls a credit line, you no longer have the use of the credit extended to you. If the lender has simply reduced your limit, you can no longer borrow as much. If, on the other hand, it has pulled your line of credit and you had a balance, then in some cases you are obligated to pay the entire balance in full. This can cause serious financial problems if you were counting on the line of credit to pay your bills, and even bigger problems if the line of credit is pulled and you don't have the cash to pay back what you owe.