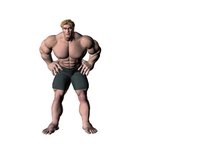 Medical Research Institute (MRI) is nutritional supplement company founded in 1997. MRI aims to produce high quality supplements using novel active ingredients and state-of-the-art delivery systems, which may enhance athletic performance. Two of the most popular supplements on MRI's line are NO2 Black and NO2 Platinum, which are both intended to increase your natural nitric oxide levels. In theory, by doing this, your working muscles are flooded with nutrients during workout because of the supplements hemodilator (dilation of the blood vessels) ingredients.
NO2 Platinum
According to MRI, NO2 Platinum is the market's first hemodilator using the key ingredient arginine alpha-ketoglutarate (A-AKG). This is a modified amino acid that is the combination of l-arginine and alpha-ketoglutarate. L-arginine is an amino acid that helps in the production of nitric oxide, and alpha-ketoglutarate is used in the krebs cycle (the production of energy) and the removal of waste byproducts, such as ammonia. The delivery system, pHylex9, is a patented extend release system that slowly releases A-AKG into the body. This may cause a long-lasting hemodilation effect.
NO2 Black
NO2 Black is the newest hemodilator from MRI, which exceeds its predecessor by the addition of the newest delivery system, ACTINOS and alpha lipoic acid (powerful antioxidant). ACTINOS was developed to increase nitric oxide synthase (NOS). The more NOS molecules in the body, the more total nitric oxide. MRI claims that NO2 Black creates 950 percent more nitric oxide than was available before. NO2 Black also includes the extend release system pHylex9.
Benefits
The benefits of both products are an increase in nutrient transport, vascularity, glucose metabolism, muscle hardness, and faster recoveries. These are claims of MRI.
Theories/Speculation
MRI relates the product's possible effectiveness on a University of Baylor study on A-AKG and increase power output. Although the University of Baylor did find a correlation of increase power output with A-AKG supplementation, the study was on A-AKG but not a product produced by MRI. In theory, NO2 Black and Platinum may have positive effects.
Warning
Please consult your health care provider or physician before taking supplements. There is a lack of research stating the effectiveness of NO2 Black or NO2 Platinum. Arginine has mild side effects in large doses over 10g/per day, including gastrointestinal discomfort and cold sores.