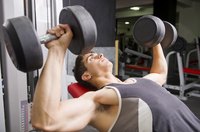 Whether you are an athlete or an average person trying get healthy and fit, the process of gaining weight can feel daunting and overwhelming. There are a number of products and supplements out there that can aide in your quest for weight and muscle gain. One of these supplements is Serious Mass by Optimum Nutrition. In the right dosage range, there are few serious side effects. But if this product is abused, there can be ramifications.
Product Background
Serious Mass is a nutritional supplement used to assist those who want to gain weight and/or muscle. It primarily consists of complex carbohydrates, protein from whey, casein and eggs, and a wide variety of vitamins and minerals. It also contains creatine monohydrate, glutamine and choline, which may help in the process of building muscle for those who strength train. It comes in the form of a powder and can be mixed with water or blended with other ingredients of your choice.
Usage Recommendations
According to the instructions, each serving of Optimum Nutrition Serious Mass -- two heaping scoops -- contains 1,250 calories, including 4.5 grams of fat, 252 grams of carbohydrate and 50 grams of protein. Based on the fact that you must consume 3,500 calories more than your normal daily requirement to gain one pound, you would gain roughly one pound every three days, if taking one serving per day.
Side Effects
The ingredients in Serious Mass can cause some adverse reactions. According to the University of Maryland Medical Center, some of the side effects associated with creatine monohydrate include diarrhea, stomach upset, muscle cramping, dehydration, and bloating. Glutamine supplementation yields few side effects but can cause weakness, nausea, and diarrhea when taken in large doses over an extended period of time. In addition, choline may also cause nausea, abdominal discomfort, or diarrhea. For those who do not get proper exercise while using this product, there is the increased chance of gaining weight primarily from fat as opposed to muscle. People with impaired kidney function may not be able to take this product because of the high protein content. As always, check with your doctor before beginning any dietary supplement.
Points to Consider
Optimum Nutrition Serious Mass or any dietary supplement is not a substitute for whole foods. Whole foods contain many nutrients your body needs that work together and cannot be replicated in supplement form, according to the 2005 "Journal of the American Medical Association." While Serious Mass does contain many of the nutrients you need to gain muscle weight effectively, you should still have a healthy well-balanced diet that contains whole grains, fruits and vegetables, low fat dairy, lean meats, and nuts and healthy oils.
Warnings and Precautions
Those who are allergic to dairy should avoid taking this supplement. Whey protein is manufactured from dairy and could cause an allergic reaction. If you have pre-existing medical conditions or take medications, you should consult with you physician before taking this supplement. The vitamins and minerals or other ingredients contained in this product may interact with medications you are taking. Also, if you are pregnant or lactating, check with your physician before using this product.