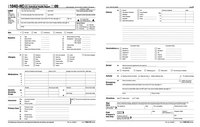 British Prime Minister Winston Churchill once said, "There is no such thing as a good tax." While this point of view accurately reflects the sentiments of many taxpayers, it is important to follow the rules that govern the amount of taxes that must be submitted. It is especially important to understand these rules when attempting to determine whether your income qualifies as nontaxable.
Definition of Income
The U.S. Internal Revenue Code number 61 provides a rather aggressive definition of the the term "income." The Code states, "Except as otherwise provided … income means all income from whatever source derived."
How Nontaxable Income is Determined
In order to discover which components of this income are nontaxable and which are taxable, it is necessary to review IRS Publication 525, Taxable and Nontaxable Income (see References).
How much Nontaxable Income Can Be Excluded
There does not appear to be an across-the-board maximum amount of income that can be excluded from taxation. You must consult IRS Publication 525 and determine the nontaxable amount for the particular type of income in question.
Examples of Nontaxble Income Limitations
An example of a nontaxble income limitation would be the following. In the 2008 version of IRS 525, taxpayers were informed that they could exclude up to $5,250 of employer-provided educational assistance. In the same publication, taxpayers were informed that they were required to pay taxes on any employer-provided life insurance benefit in excess of $50,000.
Evolution of Nontaxable Income
It is important for taxpayers to keep informed about the latest IRS policies regarding their particular form of income. For instance, in 2002 the IRS announced that it would not try to enforce taxable income requirements on frequent-flier miles, rewards, and other promotional cost savings related to business or official travel. A taxpayer not aware of this change may have assumed that this was still taxable income.