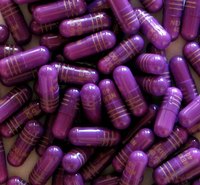 Nexium is a medication used to control the amount of acid produced in the stomach. Its use has advantages and disadvantages. The main active ingredient in Nexium is in a class of medications known as "proton pump inhibitors" that prevent acid from being released into the stomach. This medication should not be taken more often than recommended.
Features
Esomeprazole is the active ingredient in Nexium. Nexium is available in hard gelatin tablet form containing either 20 mg or 40 mg of esomeprazole. Tablets are opaque and amethyst in color. Tablets containing 20 mg of esomeprazole have two yellow bars on them. 40-mg tablets are indicated by three yellow bars.
Uses
Nexium is is used to treat stomach ulcers and gastroesophageal reflux disease. It can also be used in the prevention of stomach ulcers. Nexium works by either slowing down acid production in the stomach or by reducing the general amount of acid in the stomach.
Dosing
A person's dosing schedule should not be altered without the recommendation of a doctor. Nexium should only be taken as often as recommended. When used to heal erosive esophagitis, 20 mg or 40 mg should be taken daily for four to eight weeks. When used for the maintenance of erosive esophagitis healing, 20 mg of Nexium should be taken daily for as long as recommended. This medication should always be taken one hour before a meal with a full glass of water.
Side Effects
Some side effects have been associated with Nexium use. Common side effects are diarrhea, headache, nausea, constipation, gas and dry mouth. Some people may have an allergic reaction to the ingredients. Signs of an allergic reaction include hives, swelling of the face, mouth, tongue or throat and dry mouth. In the event of an allergic reaction, use of Nexium should be halted and a doctor or pharmacist should be contacted immediately.
Warnings
Nexium may negatively interact with several other medications. A doctor should be consulted before using Nexium if a person is already taking medications like clopidorel, diazepam, HIV medications like atazanavir or blood thinners like warfarin. Nexium consumers should notify their doctor of any medications, vitamins or minerals that they are taking before beginning their Nexium regimen. Nexium should be kept out of reach of children.