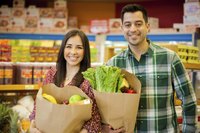 Service companies come in all shapes and sizes. They include doctors, lawyers, business consultants, landscapers, housecleaners and taxi drivers. The best way to define service companies is to contrast them with manufacturing companies. Unlike manufacturers that produce a tangible product you can hold in your hand, service companies produce intangible products.
A Thin Line
It's often a thin line between what makes one company a manufacturer and another a service provider. And different governmental agencies in different nations have different definitions for these sectors of the economy. Many manufacturing companies also handle the service side of their businesses, for instance. And oil and gas companies and fast food restaurants are service providers, even though they produce something tangible.
Where Service and Manufacturing Differ
Customer focus and interaction tend to be the biggest differences between service and manufacturing companies. Service companies often produce a service tailored to an individual customer's requirements, and they often interact individually with those customers. As such, service companies are likely to focus more intensively on customer satisfaction than a distant manufacturer could.
From a Manufacturing Economy to a Service Economy
The makeup of the American economy underwent a sea change in the last half of the 20th century: It shifted dramatically from a being a nation that primarily manufactured goods to one that overwhelmingly provides services. Today, about 10 percent of Americans work in manufacturing. Service providers employ the rest of the working population.