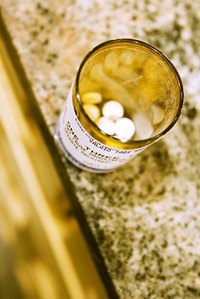 Calcium is an important mineral necessary for normal body functions, most notably the formation and maintenance of bones. Calcium also aids in the removal of other minerals from the body by binding to them, easing in flushing them from the system. When people don't follow proper nutrition, a calcium deficiency can develop. Calcium gluconate is a medication that helps to treat and prevent a calcium deficiency. Some of the more common brand names for calcium gluconate are Citracal, Neo-Calglucon and Posture.
Indications
Although the main purpose of calcium gluconate is to treat calcium deficiencies, it can also be used to treat the conditions caused by the deficiency, such as hypocalcemia—which literally means low blood calcium. Another perhaps surprising use of calcium gluconate is to treat muscle cramping resulting from a black widow spider bite. It also can reduce capillary permeability in some allergic conditions.
Risks
As with any other prescription medication, people with certain conditions or those taking other medications should be wary of taking calcium gluconate. It's important to tell your doctor if you are pregnant, take certain antibiotics such as oxytetracycline or demeclocycline, or have had kidney stones or parathyroid gland disease. Even seemingly innocent over-the-counter treatments such as antacids or other calcium supplements can interact with this medication.
Side Effects
Side effects are a common complaint with medications, so pay close attention to your body for anything that could be signs of an allergic reaction. These could include a rash, hives or swelling of the face, lips or tongue. If you experience confusion, headache or feel unusually weak or tired, call your doctor immediately. Some less-serious side effects can include constipation and upset stomach or gas.
Drug Form
Calcium gluconate is available in two forms—intravenous, directly or by infusion, and oral tablets. Your doctor will determine the appropriate form for you, depending upon the specifics and severity of your situation and condition. Intravenous delivery is generally reserved for more severe conditions, such as hypocalcemia and hypermagnesemia, while oral tablets are prescribed for the maintenance of a healthy calcium level to minimize the effects of osteoporosis.
Dosage
Proper dosage will be determined by your doctor. Follow the directions closely, taking only as much as you are prescribed as often as required. Generally tablets can be better absorbed by the body when taken with a full glass of water during a meal. If you miss a dose, take it as soon as you remember unless it is close to the time for your next dose. If you have taken too much, call for medical help immediately.