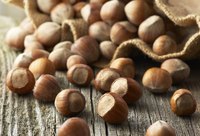 You may know them best as part of chocolate hazelnut spread, but hazelnuts are more than just a flavor enhancer. Eaten by themselves, hazelnuts, also known as filberts, are filled with a number of nutrients that promote health, including protein, fiber and antioxidants.
Weight Control
Hazelnuts are a calorie-dense food, with 176 calories in a 1-ounce portion or about 21 nuts. But that doesn't mean you need to avoid them if you're counting calories for weight loss. In fact, hazelnuts might help in your weight-loss efforts.
A 2008 article published in The Journal of Nutrition reports that people who eat more nuts also tend to be thinner. Nuts are considered satiating foods, which may be due to protein and fiber content, and may help you eat fewer calories and aid in weight control. A 1-ounce serving of hazelnuts contains 4 grams of protein and 3 grams of fiber.
Heart-Healthy Nutrients
The fiber, along with the fat content, makes hazelnuts a heart-healthy food choice. While hazelnuts are high in fat, most of the fat comes from monounsaturated fats. When eaten in moderation and in place of saturated and trans fats, monounsaturated fats improve heart health by helping to keep bad cholesterol levels low. Additionally, eating more fiber-rich foods like hazelnuts can lower your risk of heart disease.
Antioxidant Power
Vitamin E and manganese are both antioxidants found in significant amounts in hazelnuts, meeting 20 percent of the daily value and 86 percent of the daily value in a 1-ounce serving, respectively. Antioxidants are substances in food that may help decrease the aging process and play an important role in delaying or preventing heart disease and cancer.
When your goal is to improve overall health and reduce risk of disease, it's always better to get your health-promoting antioxidants from healthy foods, such as hazelnuts, than from supplements, says the Harvard School of Public Health.
Source of Nutrients
Hazelnuts are also a good source of thiamine, magnesium and copper, meeting more than 10 percent of the daily value of each nutrient. Thiamine is a B vitamin that helps turn carbs from foods such as fruit and whole-wheat bread into energy. Magnesium is a mineral that keeps your heartbeat steady, supports immune health and regulates muscle and nerve control. You need an adequate intake of the trace mineral copper to help iron make red blood cells and support strong bones.