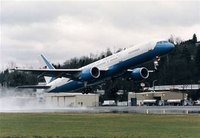 Most people believe that Air Force One and Air Force Two refer to the aircraft used to fly the president and vice president from one location to another. That is only partly true. While there are custom-fitted aircraft for our country's top leaders, Air Force One and Air Force Two are actually the call signs the pilots use to communicate with air traffic control.
Separate Travel
For security reasons, the vice president never travels with the president. An assassination attempt could potentially kill both. Even when the president and vice president appear together, they travel separately.

Aircraft
The aircraft used by the vice president are also used by the first lady, and on occasion, members of the Cabinet and Congress. The three most commonly used aircraft are the Boeing C-32, a modified version of the Boeing 757; a Boeing C-40 Clipper, a modified Boeing 737; and the VH-60N helicopter. The Air Force flies the jet aircraft and the Marines fly the helicopters.

Air Force One and Two
Any fixed-wing aircraft occupied by the vice president uses the call sign Air Force Two. The call sign designation came into use after the Air Force flight number of the plane carrying the president was the same as a commercial airliner. Both planes entered the same airspace, potentially endangering both aircraft and their passengers, including the president. Following this incident, all planes carrying the president use the call sign Air Force One. Planes carrying the vice president use the call sign Air Force Two.
Marine One and Two
Any helicopter carrying the president uses the call sign Marine One. When they carry the vice president, the call sign is Marine Two. Should the families of either the president or the vice president be on board the helicopter, the sign changes to either Marine 1F or Marine 2F. The F stands for foxtrot. Helicopters in use for presidential and vice presidential transportation include the VH-3D and VH-60N.
Special Flights
On occasion, the aircraft used to carry the vice president or the president are used for other purposes. In those cases, the call signs used become the tail number of the aircraft. For the two specially modified Boeing 747-200Bs (VC-25As) those tail numbers are SAM 28000 and SAM 29000. SAM stands for Special Air Mission.