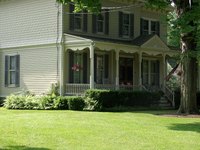 Deciding whether to sell your home is tough, regardless of the economy. Sentimental value plays a part in the decision-making on top of the logistical factors of the sale. Knowing what benefits and drawbacks your home has and how to judge the current real estate market are the two best ways to make an informed decision about selling your home.
Current Value
One of the financial devastations for many families after the burst in the housing bubble is that the value of the home is less than their purchase price. That means that the family may owe more on the house than the current value, leaving a deficit when the house sells. Most people are neither willing nor able to come up with the difference between the selling price and the value of the loan. Determining the current value of your home is the first step if you are considering selling. Hiring a professional to assess the house to look at comparables in the area will give you a good idea of what you may be able to get for your house.
Amenities
A "buyer's market" in real estate terms means that buyers can be picky about what they want. Real estate agents say that the state of the bathroom and kitchen of a home is a decisive factor in the chances of selling and ask that your bathroom and kitchen be updated and in great condition. If your bathroom or kitchen need work, price out the cost of making the needed repairs and updates and decide whether this investment is worth it. Curb appeal matters, but most people can invest a bit into the yard to spruce it up. Trying to sell in a buyer's market when a house needs work typically is not a good idea.

Economic Projections
Economies work on a basic peak and valley system. While the economy will improve eventually, finding out what experts project for your area will help you determine whether selling now is a good idea. Realtor.com, one of the top sites for searching new homes, has a house value calculator that includes projections about various markets. This type of tool will not be completely accurate but it can give you a sense of how the market in your area fares.
Location
The location of your home within your community will affect whether you can and should sell your house right now. Perhaps houses farther back in your neighborhood are not selling, consider whether your home is in a better location with regard to accessibility, proximity to highways and walking distance to schools, shopping and other needed venues. Houses always sell in any market as people come and go, but the benefits of your house will help determine whether or not selling is right in your situation.
Rental Option
For people who need to move for work or other obligations, one choice may be to rent out their home. The federal government grants certain tax benefits to people who sell their primary residence, such as an elimination of capital gains taxes for couples making less than $500,000 per year. These benefits must be considered in conjunction with the cons of selling--such as the loss of the asset as equity in the property increases. Renting has tax benefits as well but comes with additional work as renting properties is a business venture.