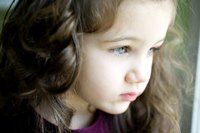 Anxiety and depression in young children and teens can be caused by genetics, nutritional deficiencies, allergies to foods and other substances, underlying medical disorders and stressful life events. More than ever before in history, children are presenting with depression and anxiety disorders. As lifestyles slowly became more hectic, and mealtimes became less nutritious, a sharp rise in mental health conditions occurred among America's youth. The connection to diet should be taken into consideration.
The Role of Nutritional Supplements
Depression and anxiety can be linked to nutritional deficiencies in all of the B vitamins, including B1, B2, B3 (Niacin), B5 (Pantothenic Acid), B6, B12 and folic acid. In addition, low levels of iron have been linked to depression and anxiety, as have low levels of omega-3 fatty acids (found in fish) and flaxseed oil. Taking supplements may help restore such balances.
Specific Supplements
Start by supplementing your child's diet with extra B vitamins under the supervision of a medical provider. These particular supplements are excreted in the urine, so there is almost no chance of overdose. Wait several weeks to see if there is any improvement in depression and anxiety. Next, introduce flaxseed oil capsules into your child's diet. This will provide essential fatty acids called omega-3's, omega-6's and omega-9's. These fatty oils are purported to aid in alleviating anxiety and depression.
Herbal Supplements and Essential Oils
There are several proprietary blends of nutritional and herbal supplements that can be beneficial in helping children with anxiety and depression. Herbal remedies such as St. John's Wort, kava kava, scullcap, and Passionflower have been used for centuries for anxiety and depression. Aromatherapy and the beneficial effects of essential oils have also been a time-tested remedy. Some of the most effective essential oils for depression and anxiety include lavender, bergamot, geranium, cypress and frankincense. These essential oils can be combined with a carrier oil, such as olive or grapeseed oil, and applied directly to skin. They can also be dropped onto small bits of cloth and inhaled or added to the bath for calming aromatherapy benefits.
Significance & Effects
Herbal and nutritional supplements can help alleviate anxiety and depression in children at relatively little cost. Most dietary and herbal supplements are reasonably priced, and easy to access at any pharmacy, super center, or local health food store. Proper nutrition and the right balance of vitamins and minerals, helps the body regulate mood and produces sufficient amounts of chemical messengers in the brain called neurotransmitters.
Caution
Herbal supplements for anxiety and depression are not monitored by the food and drug administration. It is not recommended that you use them for small children because concentrations of the active ingredients can vary from product to product. Some herbal supplements that have helped adults with depression and anxiety include Amoryn and Seronex. They have not been tested on, nor approved for use in children. Always consult your physician before augmenting your child's diet with nutritional or herbal supplements.