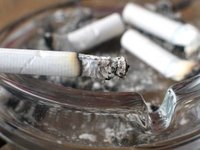 Chantix is the brand name of the drug, varenicline. Developed and marketed by Pfizer as a treatment to help people stop smoking, Chantix is typically used as part of a broader program that includes behavior modification, counseling and support. Unlike many other smoking cessation treatment, Chantix is a non-nicotine product. It works by affecting pleasure centers in the brain thereby decreasing the smoker's desire to smoke.
Function
Chantix works by targeting the same pleasure center in the brain that reacts to the nicotine in tobacco. By impacting the brain receptors, the dopamine that is typically released during smoking is blocked. This same function is being considered for treating other addictions including both substance and behavioral addictions such as gambling. Because alcohol may affect the same brain receptors as nicotine, it has been suggested that Chantix may be effective in helping heavy drinkers to give up alcohol. Researchers at the National Institute on Alcohol Abuse and Alcoholism and certain universities expect to soon begin clinical trials to test this theory.
Side Effects
Nausea was the most common side effect reported during clinical trials. Other common side effects included problems sleeping, gas, constipation and vomiting. In rare cases, skin reactions including rash, swelling and peeling were reported. Chantix has produced allergic reactions in some patients including swelling of the face, mouth and throat. Some of these allergic reactions can be life threatening. If severe symptoms occur the patient should stop taking this medication immediately and seek medical attention. None of these side effects appear to be exacerbated by the use of alcohol.
Considerations
Patients who have suffered from depression or other mental health issues should consult with their health care provider prior to taking Chantix as this drug may cause a worsening of these symptoms. Patients who are undergoing kidney dialysis or who have kidney problem should discuss their situation with their health care provider as a lower dosage of Chantix may be more appropriate for them. Women who are pregnant, nursing or may become pregnant are encouraged to quit smoking. However, because the effects of Chantix on unborn babies have not been studied, pregnant women should consult with their health care provider prior to starting treatment with Chantix. Chantix is known to pass into breast milk, however its effects on nursing infants has not been studied. It is recommended that nursing mothers refrain from using Chantix, or seek an alternative method of feeding their child.
Behavior Change
Changes in behavior including hostility, agitation, depression and suicidal thoughts have been reported in some individual after beginning treatment with Chantix. Patients who notice unusual behavior changes or experience hallucinations, paranoia or confusion should stop taking the medication immediately and contact their health care provider. Chantix may worsen symptoms in persons suffering from depression or other mental disorders. While alcohol may also worsen these symptoms, there is no current evidence that alcohol in conjunction with Chantix is a trigger for these symptoms.
Warning
ABC News reported on the 2007 death of Texas musician Carter Albrecht, who allegedly began hallucinating after drinking alcohol after having been on Chantix for a week. Albrecht was shot to death after banging on a neighbor's back door. According to the news report there are 3 million Americans currently using Chantix with no other violence related reports. There are allegations that alcohol combined with Chantix was responsible for Albrecht's behavior, but there have been no studies to substantiate that claim.