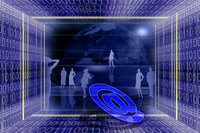 Information technology relates to information systems that are computer-based. It's an term that combines the design, study, development, implementation, support and/or management of these systems in computer hardware and software. In modern day businesses, information technology is used to produce, store, manipulate and circulate information.
Function
Information technology has granted modern day businesses the capability to become linked with other companies throughout the world with the use of one single system. Therefore, information is quickly shared without geographic barriers. The demand for this type of technology is global: No matter where they are, clients and customers demand higher efficiency, lower prices and better quality in the products and services they receive. To survive in the modern business world, a company must use information technology to access appropriate information and be able to act on it quickly.
Significance
Because of information technology, businesses are able to communicate in a way that's faster than ever before. Businesses have the option to provide information to their clients, the general public or internally through the use of personal computers and online services.
Cost Effectiveness
When businesses take advantage of information technology resources, they are able to streamline the production of goods and services. Because of low cost advancements, the days of worrying about international or long-distance calling rates are almost obsolete. It has become very easy to send and receive messages to and from anywhere through information technology systems.
Benefits within Businesses
Information technology not only helps modern businesses connect with their clients, but also with employees within the same company. Cultural competency within a business can be enhanced when the ability to instantly communicate interdepartmentally is used effectively. Information technology thus becomes a tool that helps bridge gaps and allows for the exchange of ideas, which can help management take advantage of the diversity within a business and create a greater cultural awareness.
Job Creation
The field of information technology has created a growing number of jobs internationally. When a business wants to function online, it must hire or contract those who can meet the demands of the company through computer programming, the development of hardware and software, information technology set-up and support, web design, search engine optimization and creating customer autonomy. Information technology experts who are employed by modern businesses help those companies target niche markets they wouldn't have been able to reach as quickly or efficiently on their own.