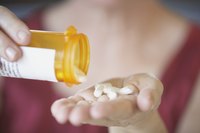 Celexa is an anti-depressant medication that is available only through a prescription. Celexa works by balancing the serotonin in your brain. While taking Celexa, you may experience mild to severe side effects. These side effects are not permanent and vary by person. Experiencing mild side effects is common for Celexa users. Serious side effects can occur but are rare.
Features
Serotonin is a chemical messenger that helps control your mood. When you are depressed, the serotonin in your brain is not effective or as active as it should be. Celexa helps to correct your serotonin levels. When you balance the serotonin in your brain, your depression symptoms will decrease.
Effects
Celexa can cause side effects that vary by person and can be mild or severe. Mild side effects include nausea, dry mouth, tiredness or blurred vision. Serious side effects can include mood or behavior changes, anxiety, panic attacks, trouble sleeping, hyperactivity and thoughts of suicide. If you experience any side effects, notify your doctor.
Time Frame
It can take up to four weeks to get the full benefit of the drug. Side effects can begin after one dose. As your body adjusts to the serotonin changes, your side effects should ease. Everyone responds differently, but it can take four weeks to notice an improvement in your side effects. Side effects are not permanent and will stop shortly after you stop taking the medication. If side effects do not get better or worsen, call your doctor.
Warning
Do not take Celexa without first telling your doctor what other medications you are taking. Celexa can have a harmful reaction when mixed with other medications. Do not stop taking Celexa completely without first talking to your doctor. Going cold turkey can cause serious side effects. If you want to stop taking Celexa, you will need to wean yourself off the medication.
Considerations
One way to lessen the side effects is to start with a low dosage and build up to the full strength. Lower doses have a smaller chance of causing side effects. Talk to your doctor about how to prevent and manage side effects before you start taking Celexa.