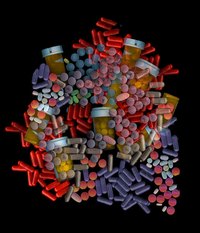 Cancer occurs when abnormal cells duplicate at an uncontrollable rate and invade various tissues in other parts of the body. Treatments for cancer range from simple to complicated surgical procedures in addition to radiation and chemotherapy. Antibiotics are used to prevent and fight infections that can result from some of these treatments. However, physicians must closely administer antibiotics to avoid allergic reactions and possible toxicity.
Types of Cancer
The most common types of cancer include: carcinoma, sarcoma, leukemia, lymphoma, multiple myeloma and cancers of the central nervous system. Your genetic makeup and your family's medical history are significant contributing factors to your susceptibility to cancer. Environmental factors and exposure to known cancer-causing agents have also been found to contribute to an increase in the incidence of cancer.
Types of Treatments
Decisions concerning treatments depend largely on the kind of cancer and the stage to which the cancer has progressed. Because cancer cells invade many parts of the body simultaneously, a combination of targeted therapies are necessary to fight this disease. Chemotherapy or radiation destroys healthy cells along with cancer cells, leaving the body weak and unable to fight off infection. Surgical procedures involve removing tumors or injecting patients with non-cancerous cells, or transplants.
Antibiotic Prophylaxis
Cancer patients undergoing surgery often require the use of antibiotics prior to surgery to prevent infection. Without antibiotics, bacteria during surgery to remove tumors could invade the bloodstream and infect other areas of the body. Antibiotics used as a prophylaxis boosts cancer patients with compromised immune systems during surgery or chemotherapy.
Types of Antibiotic Prophylaxis
Antibiotics used for prophylaxis therapy include amoxicillin, a type of penicillin. Fluoroquinolones, such as ciprofloxacin (Cipro) and trovafloxacin (Trovan), are also common. Cephalosporin antibiotics are preferred as surgical prophylaxis. Such antibiotics include cefazolin (also known as Ancef and Kefzol), cefamandole (Mandol) and cefotaxime (Claforan).
Precautions
It is important for cancer patients to be aware of the precautions that accompany their medication. Their systems must focus on fighting cancer, not adverse reactions to antibiotics. Patients who are allergic to penicillin should avoid cephalosporin antibiotics. Diarrhea, nausea or vomiting should be reported to the prescribing physician as soon as possible. Always inform your doctor of any other medications you are taking to prevent adverse drug interactions. Follow your pharmacist's instructions and contact your physician or pharmacist with any concerns.