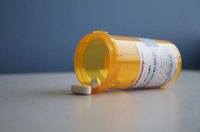 Progon B is an over-the-counter plant-based progesterone supplement. Its ingredients include progesterone derived from plants, barbasco extract and vitamin B6. Progon B and other progesterone supplements are recommended for use in supplementing bone density and reducing the severity of pre-menstrual syndrome; however, they are not without potential side effects.
Changes in Menstrual Cycle
If you have regular menstrual cycles, you may experience changes in the timing of them during the first few months of use. You may also experience changes in cervical secretions, spotting, breakthrough bleeding, changes in your overall menstrual flow, an increase in breast tenderness, bloating and weight gain.
High Blood Pressure
Some women may experience a mild to moderate rise in blood pressure while taking Progon B or another progesterone supplement. If you already suffer from high blood pressure, the use of Progon B may worsen the condition.
Allergic Reactions
Progesterone in any form has the potential to trigger an allergic reaction. Symptoms of an allergic reaction include difficulty breathing, swelling of the mouth, tongue, lips or face, chest tightness and shortness of breath, and hives. If you experience any of these symptoms, stop taking Progon B and seek medical attention immediately.
Increased Risk for Embolism and Thrombosis
According to Drugs.com, some women on progesterone therapy are at an increased risk of developing a pulmonary embolism and cerebral thrombosis. A pulmonary embolism is a blood clot that travels to the lungs from another part of the body. Cerebral thrombosis occurs when a blood clot blocks an artery that supplies blood to the brain. Do not take Progon B if you have a family history of blood clots, unless your doctor instructs you to.
Increased Risk for Breast Cancer
According to Drugs.com, progesterone supplements can lead to an increased risk for breast cancer. Progesterone is a steroid hormone, and the use of steroid hormones can lead to inflammation in the breast tissue. Inflammation occurs when white blood cells move into the area, and a large concentration of them can lead to the development of tumors, which may or may not be cancerous. You should not take progesterone if you have a family history of breast cancer, or if you are already at an increased risk for developing breast cancer.