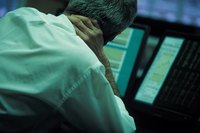 A tooth that fails to fully pass through the gums is an "impacted tooth." Impacted teeth can cause headache, jaw ache, swollen lymph nodes and neck pain. According to the National Library of Medicine (NLM), "the most common teeth to become impacted are the wisdom teeth (the third set of molars)."
Cause
Wisdom teeth can cause pain by crowding neighboring teeth, which can also lead to a misalignment of the bite. Infection occurs in wisdom teeth—as they trap food particles and plaque along the gum line—and can spread throughout the mouth and even into the neck.
Infection
If infection caused by wisdom teeth spreads to the neck, your lymph nodes may swell, causing pain until you get treatment for the infection. Pain occurs most often in the beginning stages of inflammation, when the lymph nodes are swelling quickly, according to the NLM.
TMJ Disease
TMJ disease, or tempromandibular joint disease, sometimes occurs during wisdom teeth growth or after wisdom teeth removal. Usually accompanied by acute pain in the mouth and difficulty moving the jaw, TMJ disease corresponds directly with the nerves surrounding the joint at the top of the jaw. According to the Orofacial Disorders Center, these nerves commingle with the nerves of the neck, easily enabling the chronic pain to radiate to the neck.
Treatment
According to the Consumer Guide to Dentistry, "impacted wisdom teeth may become painful and problematic, at which point they are often extracted through minor oral surgery." After surgery, your dentist may prescribe painkillers to ease pain in the gums, jaw or neck. Patients should eat soft, easy-to-chew foods after surgery, as tougher foods will aggravate pain already present.
Warning
Your doctor may order medical tests, such as a biopsy, X-rays or blood tests, to ensure that an underlying medical disorder isn't causing your neck pain. According to the NLM, pain in the neck that occurs suddenly is typically the result of injury or infection, but serious medical conditions also can cause swollen lymph nodes, including "an abscess or cancer."