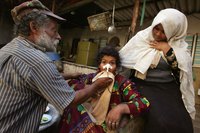 Bolus feeding is the practice of using a feeding tube to supply nutrition to individuals who cannot or will not eat by normal means. It is one form of a larger group of tube-feeding techniques collectively known as enteral feeding. Typically, bolus feeding follows well-established guidelines and may be used for children or adults suffering from a number of conditions including severe malnutrition, comas and anorexia.
The Facts
Bolus feeding is used for individuals who are able to tolerate a relatively large amount of food at one time. An individual may receive a bolus feeding through tubing that passes through the nose down into the stomach, through tubing that passes through the mouth, or through tubing that accesses the stomach directly through the abdominal wall.
Types of Food
According to the Merck Manuals Online Medical Library, bolus feedings are given as a liquid formula. Depending on a patient's needs, a formula may contain a single type of nutrient such as proteins, fats or carbohydrates; blended versions of normal foods; or special formulas designed to meet particular overall nutritional requirements.
Bolus Feeding For Adults
Schedules for bolus feedings are determined on an individual basis. Typically, feeding takes place roughly every four to six hours while a patient is awake. At the beginning of a feeding, a nurse or patient will open the appropriate amount and type of food for the patient's needs. The nurse or patient will then connect a syringe to the patient's feeding tube. Once the syringe is properly placed, it is filled with formula, which is slowly introduced into the patient's system. Gravity is typically used to assist this process. Depending on the size of the syringe and the patient's food requirements, these steps are repeated until a feeding is done. If a patient is unable to feed himself, a nurse or other medical personnel will do so. After feeding, the patient should remain upright for roughly one hour to ensure proper food absorption.
Bolus Feeding For Children
Bolus feeding for a child follows the same basic guidelines. However, certain precautionary steps are also typically necessary. Prior to beginning a feeding, a parent or nurse will use a stethoscope to make sure that a child's feeding tube is properly placed. During feeding, it is best to mimic the eating pace a child would normally set. If a feeding is too quick, the feeding tube can be lowered to slow the pace. If a child chokes or gags during feeding, the procedure is stopped immediately, and the parent or nurse makes sure his mouth is clear of vomit or any other impediment. If everything is okay, placement of the feeding tube is re-checked and feeding proceeds at a slower pace.
Considerations
If bolus feeding is not a suitable initial option, or if a patient develops nausea as a result of bolus feeding, doctors may use a procedure called continuous enteral feeding. In this technique, a patient is provided with smaller amounts of food through a feeding tube that remains connected throughout the day.