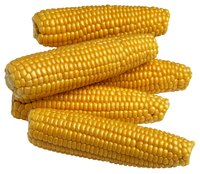 Hydrolysates are proteins that have been partially broken down into peptides and amino acids. These substances may be easier for your body to use and result in increased muscle mass and improvements in body composition, according to a review article published in Nutrition & Metabolism in 2009. Hydrolysates may also have benefits for weight loss, although research results are still preliminary.
Hydrolysate Versus Amino Acids
An animal study published in Nutrition Research and Practice in April 2010 found that corn gluten hydrolysates were more effective for weight loss than either the amino acid leucine or branched-chain amino acids, both of which are sometimes used for improving body composition. The rats in the hydrolysates groups had less fat and greater improvements in muscle mass at the end of the study than those in the other groups, regardless of whether they ate a normal-fat or high-fat diet.
Type of Hydrolysate
Some types of hydrolysates may be better for weight loss than others. A study published in Preventive Nutrition and Food Science in September 2012 found that corn gluten hydrolysate was more effective for weight loss than either wheat gluten hydrolysate or soy protein isolate hydrolysate. It was also more effective than the intact versions of these proteins and casein as a protein source. Yeast hydrolysates also appear to be effective for reducing body weight and limiting increases in abdominal fat. A study published in Nutrition in January 2014 found that people who took a yeast hydrolysate supplement for 10 weeks lost a significant amount of body fat and reduced their waist size.
Combined With Diet and Exercise
You may get the best results if you combine hydrolysates with a reduced-calorie diet and resistance training. A study published in the Annals of Nutrition & Metabolism in 2000 found that overweight people who followed a low-calorie diet with a high-protein intake from a casein protein hydrolysate and did resistance-training exercises lost more body fat and gained more muscle than those who just followed the diet or followed the diet and exercise plan but got their protein from whey protein hydrolysate. The whey protein hydrolysate group had better results than the group that just followed the diet.
Potential Mechanism
The authors of the Annals of Nutrition & Metabolism study theorize that the body composition benefits of hydrolysates are due to the peptide components limiting the breakdown of muscle tissue. The hydrolysates may also increase the amount of the enzymes that break down fat produced by your liver, note the authors of the Preventive Nutrition and Food Science study.