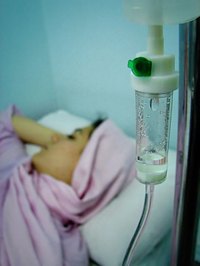 Nerve pain is a common symptom in a wide variety of illnesses and conditions. Many nerves, including the inguinal nerve, have significant potential to cause pain due to their length and association with multiple organs. Thus the symptoms and treatment options vary considerably from case to case. Studies are ongoing for inguinal nerve pain to determine the best solutions for this problem.
Location
The ilio-inguinal nerve passes through the inguinal canal away from the spine in the middle of the back. It passes through the hip area and into the groin with further effect down the legs. Thus the reach of this nerve extends across a large portion of the body and is susceptible to pain in many regions. Damage to the inguinal nerve can occur from a variety of events, but most often presents after surgery in the abdominal area.
Treatments
Diverse treatment options are available to sufferers of inguinal nerve pain. In some cases, neuropathic pain medication can be tried. If medication is not appropriate for a particular case, or if it proves unsuccessful, injection therapy to block the nerve is a common practice. The frequency of injections varies for each case. Stimulation of spinal nerves can also reduce inguinal nerve pain.
Hernia
Inguinal neuralgia is one form of pain caused by damage to the inguinal nerve. While many nerves in the area could present similar symptoms, the inguinal nerve is most often affected by hernia repair and is a common side-effect of surgery. While medication is not available for this type of inguinal nerve pain, nerve block treatment reduces or eliminates pain in most hernia victims within six months of hernia operation.
Women
In addition to hernia repair, two common procedures affecting women are known to cause inguinal nerve pain. Cesarean deliveries and hysterectomies both take place in an area where inguinal nerve damage is a possible side-effect of surgery. After these procedures, scarred sections of the inguinal nerve may develop into neuromas. Neuroma resection has proven a successful cure for inguinal nerve pain caused in this manner.
Excision
The removal of the inguinal nerve is a common last effort in treating pain. The technique applies to inguinal nerve pain from a variety of causes, including hernia, infection, surgeries and injury. The affected area is usually pain-free after this operation. Patients may experience semi-permanent numbness to replace the pain. Studies are ongoing to determine the long-term effects of inguinal nerve removal.