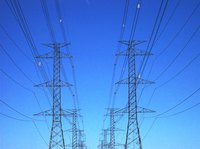 We are all spoiled by the fact we can illuminate our homes by the simple flip of a switch, yet when a utility company announces plans to construct power lines in our neighborhood many people object. Those objections are not just about having to look at unsightly steel towers from our backyards, some are based on concerns about the danger of the electric magnetic fields (EMF) produced by these lines.
Transmission Lines and EMF
Transmission power lines are the high tension, high capacity lines which carry electricity from the power plants and substations to neighborhoods. These transmission lines then branch out into distribution lines that feed commercial buildings and residential homes. It's the high tension power lines that emit high levels of EMF and create concern over continuous exposure.
Everyday EMF's
Electric magnetic fields are generated by electricity. Man-made fields are just about everywhere. Household appliances produce low levels of EMF, lightning storms can produce super-high levels and even the aisles in the refrigerated sections of your grocery store produce moderate levels. However, sleeping under an electric blanket or buying a pint of ice cream aren't of major concern because exposure isn't long enough or high enough to place humans at risk.
Living Near Power Lines
Depending on which study one reads, living near high tension power lines is safe if your home is located far enough from the lines. In California, there is a "set back" distance on transmission lines from private property of 150 feet, but a 2005 study by Oxford University's childhood cancer research group reports, "Children living within 220 yards of an overhead power line had a 70 percent greater risk of falling victim to leukemia."
The Environmental Protection Agency (EPA)
Increasing concern over the risk of children living near power lines got the EPA's attention and they consulted with the National Institutes of Health's National Institute of Environmental Health Sciences (NIEHS). Their 1998 study concluded, "Power line magnetic fields are a possible cause of cancer".
Avoid Exposure
Since utility companies continue to claim that living near properly set-back transmission lines is safe and even the federal government can only conclude that magnetic fields are a "possible" cause of cancer, it seems the safest thing to do is avoid exposure to high tension power lines. If you believe Oxford University's study, the only safe house to live in would be at least 600 feet from any transmission line.