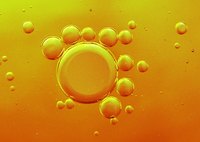 Perfume oils hold a rich place in perfume history. Their use predates alcohol-based fragrance by thousands of years. Scented oils date from a time in which beauty rituals, healing techniques and sacred rites were all intertwined, with perfume oil at their center. Today, the term "perfume oil" often refers to massage oil with just one or two fragrance notes. Still, a few true believers continue to practice the ancient art of perfume oil blending.
History
The earliest recorded use of perfume oils was for religious ceremonies. The Bible's Book of Exodus notes a holy anointing oil used by the Jews that contained myrrh, cassia and cinnamon. In Christian rites, olive oil infused with balsams and spices was known as chrism. Still used today, chrism's popularity reached fever pitch in medieval times. Ancient Indians, Romans and Egyptians used perfume oils or solidified perfume oils called unguents in their funeral rites and in other sacred rituals. Not until the 17th century, notes perfume historian Mandy Aftel, did people begin to think of perfume oil as a beauty aid wholly separate from medicine and spirituality.
Carrier Oils
Fragrance makers all seem to have strong opinions about what constituents the perfect blending medium for perfume oil. Olive oil and jojoba oils each have ancient lineages as perfume oils, and both possess emollient, healing qualities for normal to dry skin. Olive oil, while less likely to go rancid if infused with fresh plant material, has a more distinct scent that some perfumers feel interferes with the perfume. Wheat germ and grapeseed oil are odorless but somewhat drying. Jojoba may have the edge as a perfume oil, because it also blends well with beeswax to form a solid perfume, reminiscent of the ancient unguents.
Essential Oils
By far the most common ingredients used to scent perfume oils, essential oils are the liquids expressed from plant material under steam distillation, fat extraction and other methods. Sometimes artificial fragrances can be used. In homemade blends, botanicals can be infused in the carrier oil to add subtle aroma. But essential oils are the preferred choice for classic perfume oils.
Composition
In general, a perfumer begins by selects one or more essential oils to anchor the fragrance. This "chord" of scents is known as a base note, and includes such essential oils as vanilla, resins, balsams and animal-based "musk" odors. The middle note often contains floral scents, while spice or citrus blends usually comprise the top note. Once the perfumer achieves her perfect blend, she adds it to a carrier oil, where it steeps for several weeks before being bottled for use.
Differences from Alcohol Perfume
Perfume oil, which must be massaged into the skin rather than misted onto its surface, generally is heavier than alcohol-based perfumes. Both alcohol and carrier oils are mixed with essential oils at a rate of about 10 percent, but Aftel recommends doubling the number of drops used in the top notes so they won't get lost in a heavier medium like jojoba.