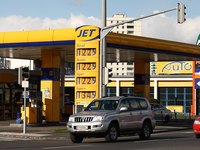 When refueling your car at the pump, you probably see different prices for diesel and regular gasoline. Many people simply do not know much about their differences. Diesel and gasoline are very similar fuels, mostly used in transportation. While one may save you money with fuel efficiency, the other is worse for the environment.
History
Diesel and gas come from the same source, but diesel fuel was not the first fuel used in diesel engines. The inventor of the diesel engine, Rudolf Diesel, tried coal dust and vegetable oil to power the first diesel engines. These were not viable and the oil industry perfected petroleum diesel and made the first diesel-powered trip on January 6, 1930, according to the Energy Information Administration. Although gasoline has been used for centuries, it was not until 1859 that man-made exploration for gasoline occurred by Edwin Drake. Gasoline would remain fairly unheralded until the invention of automobiles in 1892.
Identification
According to the Energy Information Administration, diesel fuel and gasoline are both refined from the same source: Crude oil. Refineries separate diesel and gasoline from crude oil, along with other fuels such as jet and kerosene. Unlike gasoline which can be used in a wide variety of internal combustion engines, diesel fuel can only be used in a diesel engine.
Significance
Gasoline and diesel are important and popular petroleum products in transportation. The EIA diesel fact page claims that it accounts for 7 percent of all energy use in the U.S., and 18 percent of petroleum sales. Gasoline is much more popular than diesel fuel; 17 percent of all energy needs in the U.S. are met with gasoline, and 42 percent of automobiles use gasoline.
Effects
Diesel burns much more efficiently than gasoline fuel, but both are harmful for the environment. Diesel and gasoline emit carbon dioxide, a greenhouse gas linked to global warming, but diesel produces more carbon emissions per gallon than gasoline, according to the Environmental Protection Agency; around 2,421 grams per gallon for gas and 2,778 grams per gallon for diesel (See References 3). However, diesel contains more energy per gallon than gas, resulting in 20 to 40 percent better fuel efficiency (See References 1).
Considerations
In general, gasoline is used for light transportation duties, while diesel generally powers heavier vehicles. Diesel efficiency and reliability transfer more readily to construction and military sectors, who need a fuel that does not stall as much as gasoline (See References 1). Diesel also usually costs more per gallon due to EPA requirements that call for extra refinement to remove sulfur. In late October, diesel averaged just under $3.00 per gallon, while gas average $2.75 per gallon, according to EIA pricing statistics (See Resources 1).